[one_half]A national dish of Spain, and simply delicious. You are going to need a paella dish (use a frying pan if not), and the ingredients listed on the right (though amounts may vary depending on how hungry you and your friends are). This version serves two, but make changes to suit your needs.
Fill your kettle with water and bring it to the boil for later.
Use olive oil liberally, bring the dish to heat, and throw in the chicken thighs. Cook until white.
Remove the thighs and place on a separate plate, then throw in the chorizo, onion and red pepper. Cook for five minutes.
Now add the garlic and stir in. Then add the cayenne pepper, paprika, and saffron.
Stir and cook for five minutes, then add the cod pieces and prawns, followed by the chicken thighs.
The paella should start to look nice and red. At this point, add the tomatoes and peas, and stir.
Pour boiling water into the dish until everything is covered. Then pour rice into the dish, mainly into the gaps between food. Do your best to make sure all rice is covered by some water or else it won't cook!
Leave to boil for about half an hour, or alternatively you can put the dish into a pre-heated oven of about 180 degrees.
It will be ready when most the water has disappeared, but make sure it isn't too dry and the rice is cooked. Add more water if needs be.
Serve with lemon, and enjoy.
[/one_half] [one_half_last]
Ingredients
4 chicken thighs (well seasoned)
1 chorizo sausage (peeled and chopped into small pieces)
1 cod fillet (chopped into chunks)
a handful of prawns
1 onion (chopped finely)
1 red pepper (chopped finely)
1 tomato (preferably peeled, and chopped into chunks)
3 cloves of garlic (crushed)
a handful of peas
1/2 teaspoon of cayenne pepper
1 teaspoon paprika
1/2 teaspoon of saffron
1 lemon
1/2 bag of paella rice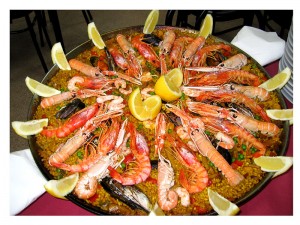 [/one_half_last] [tabgroup][tab title="Oil, oil, oil"]When cooking Spanish food, and especially with paella, use as much olive oil as you please.[/tab][tab title="Shellfish"]Many paellas, like the one pictured above, include mussels. If you want to add a handful of these with your dish, put them in with the prawns.[/tab][tab title="Keep on seasoning"]As you're cooking the paella, keep adding salt and pepper to your taste. Add more paprika and cayenne pepper if you like it spicy.[/tab][tab title="Squid"]If you like your seafood, add some squid with the prawns.[/tab][tab title="Mix it up"]You will be cooking for a rather long time. Before you add the water, keep on stirring to make sure nothing sticks and burns.[/tab][/tabgroup]