Employees from the Bournemouth office of the Driver and Vehicle Licensing Agency (DVLA) held a peaceful protest outside their office on Tuesday afternoon, against the planned closure of their branch.
The employees gathered during lunch break holding up placards of "No Cuts", in the car park of their Bourne Gate office. The office, which has been running since 2004, performs functions including registration and inspection of vehicles.
The shutting down of Bournemouth's DVLA branch will mean redundancies for over 49 employees. Despite this there were no more 10 than protesters at any one time, even with residents and members of local agitation groups attempting to make up the numbers.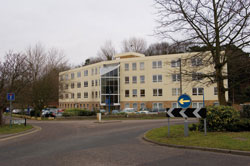 This was the first time that employees of the DVLA have protested, after the Roads Minister Mike Penning, announced plans in mid-December to close down over 39 local DVLA offices across the UK. This nationwide move is expected to save the Agency £ 28 million.
DVLA has been holding a public consultation of their decision to shut down branches since December. But as the dates were quite near to the Christmas break, the deadline for the consultation period was extended to March 20.
Berewyn Long, Public and Commercial Services Union (PCS) representative for Bournemouth, who are supporting the DVLA agitation said: "This move favours use of the internet rather than allowing walk-ins. But not every DVLA patron has an internet connection and some enjoy the convenience of physically coming to the branch."
Similar protests were held across the country. PCS says this will affect over 1,200 employees. "There are some activities like license registration, making changes to a license and registration transfers etc. which cannot be done online. We are urging the Transport Minister to review the decision to shut down the offices," added Mr Long, whose Union has been running a campaign called "save the DVLA", since December.
Though this was not an industrial action by employees, Mr Long assured that "necessary steps will be taken" to ensure their voice is heard. There are further planned protests by DVLA staff in offices across Maidstone, Theale, Wimbledon, Beverly, Birmingham.
Berewyn Long, PCS rep. talks about the reasons for the protest:

Related Links:
BBC report on the nationwide DVLA protests
Bournemouth Echo report on the December announcement
Is it a reasonable protest? Will it be helpful for addressing the unemployment issue?
Leave your comments and let us know what you think.