The Dorset Community Foundation is offering grants to charities in order to help the elderly and vulnerable through the current cold snap.
Last winter in Dorset, 269 vulnerable people died from preventable cold weather related illnesses, and a further 1,600 were hospitalised.
The 'keep warm, keep well, keep safe' scheme, launched last Friday, has a pot of £60,000 that it is hoping to give away before March. The fund will finance projects such as lunch clubs and social activities that bring isolated people into warm environments.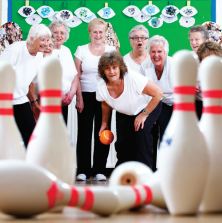 They will also provide funds to groups who provide home delivery services and 'comfort packs' of items such as hot-water bottles, slippers, coats and blankets.
Ten groups have been allocated money since the scheme launched.
Dorset Community Foundation business development coordinator Daisy Ilchovska said: "We have been asking people who don't need their winter fuel allowance to donate it to the surviving winter fund, and through that we've managed to raise just over £13,000 and were hoping to distribute it as quickly as possible.
"We're looking to help as many elderly and vulnerable people in Dorset as we possibly can."
Project manager at Dorset Council's Project for Older People partnership, Sue Warr, who works with the Community Foundation said: "Over the last couple of days we've seen a big increase in demand for our services, particularly the heater loan scheme."
The scheme provides oil radiators to vulnerable people who have suffered a breakdown in their heating system and would otherwise have no heat. Currently all 25 heaters are out on loan.
Ms Warr said: "Last November we pulled together a winter summit meeting across Bournemouth, Poole and Dorset to get all of the statutory services together in one room, to think about how on earth we prevent there being the kind of avoidable hospital admissions that we had last year and the year before.
"With a few complimentary community services being put in place you can avoid that happening.
"If we can encourage older people to have, for example, a bottle of salt by the door so instead of stepping out onto an icy step they can dissolve the ice and get to the pavement, which has hopefully been defrosted appropriately, without slipping over."
The Dorset Community Foundation is funded through donations, they have produced an online video in order to encourage people to contribute to their campaign:
Related Links
Dorset Community Foundation – Surviving Winter Appeal
Dorset Partnership for Older People Programme
Images courtesy of Dorset Partnership for Older People Programme
Hot water bottles image: Wikimedia Commons