A new foot bridge which is set to open next month at the Wool train station, has several horse shaped steps but no access for disabled or older people.
One of the first designs included a ramp to allow disable or older people to cross the line but Purbeck District Council planning committee members considered it to be too big for the space and that it would make the pedestrian way longer.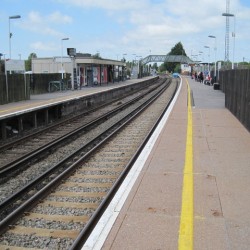 Dave Thompson, development manager from Access Dorset, said "it's unfortunate that so many of our rural stations have limited access. This is a concern to many commuters, including disabled people, young parents with children and passengers with luggage. We believe it should be a priority to ensure that all "improvement works" include careful consideration to accessibility for all passengers and potential passengers."
The bridge was constructed due to the "high risk" it represented because of the poor visibility for pedestrians and the number of trains that pass through the zone. The bridge is located approximately 20m of the existing crossing. This is just one of the many train stations Network Rail is going to intervene.
Access Dorset is a charity ran by its members who are all disabled people, older people and/or carers and is working in campaigning for better accessibility at many venues, including Pokesdown and Dorchester West railway stations.