The mild temperature this weekend have enticed kite surfers back into the sea at the famous Sandbanks peninsula.
Yesterday temperatures at Sandbanks soared to 13C, in stark contrast to this time last year where temperatures averaged at 3C.
Local kite surfer Leo said: "Last year at this time it wasn't possible because there was snow, I didn't come down here because it was very very cold, today it is very mild, it is perfect for us.
Normally in the winter you don't see many people here but it is packed now I think there are about twenty or thirty kites out on the sea."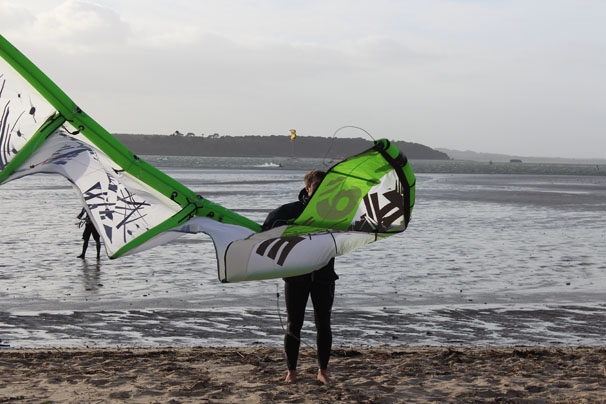 Despite the mild temperatures, the 35 knots of wind made surf conditions treacherous for beginners.
Kite surfer enthusiast, Roger Holmes took up the sport in August. He drives from Basingstoke to Sandbanks twice a week to surf at what he describes as "the best place in the South coast".
"The water is shallow and there are no currents which makes it ideal for beginners.  I didn't go in for long today because there is too much wind, the wind is getting stronger and stronger and I have not had enough experience in these conditions."
Both kite surfers emphasised the danger of this sport.
Leo explained that the harbor master is working closely with local surf clubs to improve the safety of the sport.
"The beach is very small and the road is very close which makes it very dangerous. In conditions like these it is important that people who have little experience do not go out otherwise they will get into trouble."
Weather records from the Weather Channel
Related articles
http://www.southcoastkitesurfing.org/poole_harbour_beach_guide.shtml