To mark World Mental Health Day, Bournemouth University will be holding a sold-out screening of local film '#lifeunfiltered'.
Co-produced by a number of local organisations including Dorset Mind and Dorset Mental Health Forum, '#lifeunfiltered' is a unique look in to mental health made by Bournemouth Company LoveLove Films.
According to research by the Institute of Public Policy Research, almost five times as many students as 10 years ago have disclosed a mental health condition to their university.
Georgina Hurcombe, Managing Director of LoveLove Films said: "We were delighted to be commissioned by Bournemouth University to produce the #lifeunfiltered short film with a group of remarkable young people from the Dorset Area.
"#lifeunfiltered is an opportunity to look at mental health through the eyes of a young person. It has been developed by young people about young people.
"We ran numerous workshops with the young people to develop the short film, from scripting sessions to blue screen shoots and showing the young people the editing process in our studios."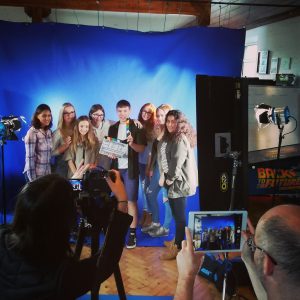 Charlie Souter-Phillips, the Vice President for Welfare at Bournemouth University's Student Union, said: "This is part of a week long range of activities organised by the Student Union and the University with the help of local organisations to highlight mental health.
"This week we are also recruiting for our student run Mental Health Zone, who will be organising a range of events about mental health throughout the year."
Set up 15 years ago, World Mental Health Day is recognised by the World Health Organisation (WHO) and observed every year on 10th October.
They state the objective of the day is: "Raising awareness of mental health issues around the world and mobilising efforts in support of mental health."
To find out more about the events being held this week at Bournemouth University follow #WMHDBU17 on Twitter.