Bournemouth DVLA (Driver and Vehicle Licencing Agency) office staff are visiting the Houses of Parliament with a local MP next week, following yesterday's protest against staff cuts.
20 DVLA staff protested outside their offices on Bourne-Valley Road at lunchtime yesterday after the Governement released plans to close 39 UK offices cutting around 1,200 jobs.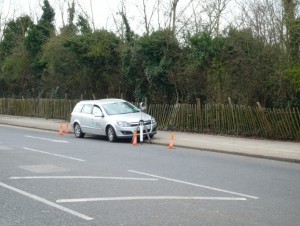 Local MP Conor Burns supports the protest and will accompany protestors to the Houses of Parliament on the 22 February 2012. 
Berewyn Long, Public and Commercial Services (PCS) union representative at the DVLA Bournemouth said:
"The union here have not ruled out the possibility of industrial action, it's likely that lunchtime action will continue.
"Part of our campaign is to try and get as many people as possible to respond to the consultation because nobody wants the offices to close."
10 enforcement centres and 39 offices which carry out face-to-face car tax services and tax evasion investigations face closure.
Mike Penning, Under-secretary of State for Transport, began public consultation on the UK office closures on December 14th 2011, stating the government could save £28m.
But, Mr Long said the closures of the 10 enforcement centres would result in the loss of 45 jobs, which would place stress on police to stop care tax evasion which costs the public £62m each year.
He said: "If the level of evasion rises by over half a % that is £30m. The DVLA is looking to save £28m by closing all of the offices, but tax evasion overrides this reduction."
Those effected by the cuts wait to hear the public consultation results on March 20th 2012.