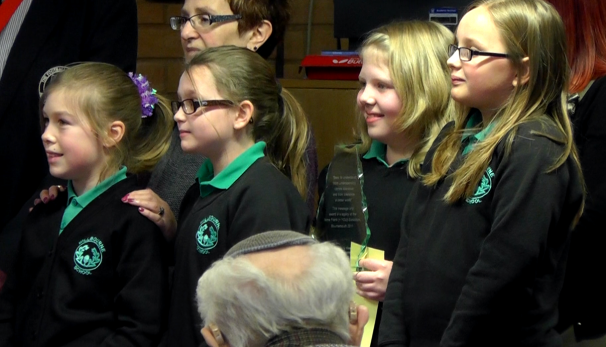 Four girls from Hillbourne School, Poole, won the Anne Frank award for their artwork yesterday at a commemorative event to mark Holocaust Memorial Day.
Cerys Rowledge, Emma Jameson, Chelsea Dodd, and Emma Norris were presented with the prestigious award at the Multi-Faith Chaplaincy in Bournemouth University by former chairman of the Bournemouth Anne Frank Committee, Rev Ian Terry.
This is the first time that the award has been awarded in Bournemouth and Poole.
Rev Ian Terry said: "The award represents the celebration of diversity and a sharing of our common humanity."
The school girls, aged between 10 and 11, made an abstract sculpture of trees, shadows, nets, and animals.
They took inspiration from Eve Bunting's story Terrible Things, an allegory for the Holocaust.
"We tried to imagine what terrible things looked like when we started working on the sculpture," said Miss Jameson.
According to their school teacher, Victoria Sibley, the class had been reading Anne Frank's diary in their English classes, and studying the Second World War.
"I am proud of what they have achieved," she said.
Miss Norris said: "In Europe, during World War II, many pretended not to know that their neighbours were being taken away to concentration camps. They pretended not to hear the cries of help. Standing up for what you know is right is not always easy. It is easier to look the other way, but if you do terrible things can happen."
Chairman of the Bournemouth and Poole Holocaust Memorial Day Committee, Lynda Ford-Horne said: "A lot of people were brave enough to stand up and protect Jews during the Nazi persecution. This day is in the memory of the victims and those who helped rescued them."
The award-winning sculpture took three weeks to build and included a lot of sacrificed lunch breaks for the young girls.
Watch more on the Holocaust Memorial Day in Bournemouth below:
[FMP width="606″ height="455″]http://www.thebreaker.co.uk/wp-content/uploads/2012/01/Conv-Vid-H.264-for-Video-Podcasting.m4v[/FMP]
Related articles: