With more and more highstreets being deserted and the spectre of Netflix looming ever larger in the shadows, Terry Whitaker, owner of DVD rental shop Flicks, has every right to surrender and close up shop.
But he doesn't. Instead, he stands strong and defiant, ready for whatever this crazy, ever-changing world can throw at him next. His secret weapons? A friendly face and a shop that can so easily feel like a second home.
"Over the years they become friends"
While Netflix may have incredibly smart algorithms and the internet can seem almost limitless, at the end of the day, neither can truly compete with honest and warm human connection. Luckily, after 22-years in the business, Whitaker can certainly offer just that, in abundance. When asked about his favourite part about working at Flicks, he had this to say:
"The people… speaking to people about the movies they love… or hate. And over the years they become friends."
Blessed with an encyclopaedic knowledge of the art form – from classic Hollywood all the way to the modern blockbuster, talking about film is what Whitaker does best.
Modern Film Industry
Unfortunately, there are some aspects of the modern film industry that have grown to frustrate him:
"Now you've got your endless Star Wars plots… your superhero plots…and it's like everyone is playing safe. Those type of films guarantees people through the door and bums on seats. But, no one is trying to do a… Dances with Wolves… Fight club… anything original."
It takes a mere trip to your local cinema (if it hasn't been closed down already) to see exactly what Whitaker is talking about – unless the film has a 100-million-plus budget, it's likely it won't be shown at all.
The Dominance of Netflix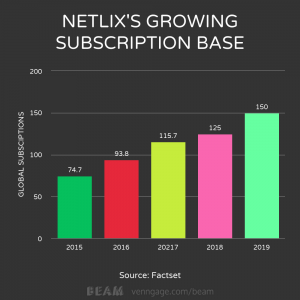 But, throughout our conversation, there was an elephant in the room. A big red elephant. Its name is Netflix. With a global subscription base nearing 150 million people, Netflix is an influential player in the entertainment industry.
However, Terry wouldn't consider the streaming giant's influence to be positive:
"Netflix has diluted the film industry and stripped of all its diversity. Soon, the only film that will be made are Netflix movies."
And of course, it has certainly made his job a lot harder.
Favourite Movie
To conclude our fun chat, it only made sense to ask Terry what was his favourite movie – big mistake. True to his job title, the cinephile was incapable of choosing just the ONE film. Instead, he gave me a million! So, I had to fight tooth and nail to get him to narrow down the (very) long-list.
The chorus and title to The Buggles seminal hit, 'Video Killed the Radio Star' weren't just catchy, but true – video did kill the radio star. Blessed with charisma, an encyclopaedic knowledge of cinema and a shop that can so easily feel like home, Netflix won't be killing this DVD star.