Sixty macaque monkeys were saved from being transported to the US for experiments after a campaign touched animal lovers worldwide, according to the People for the Ethical Treatments of Animals.
More than 68,000 emails were sent in less than 24 hours protesting the plans to airlift the monkeys to the US. Thousands of social media posts, phone calls, and e-mails from PETA, PETA France, PETA Germany and PETA US forced Air France to cancel the 23-hour flight to the US (AF 6802 via Paris), a PETA release said.
Alistair Currie, PETA's policy adviser, said: "Thanks to the thousands of compassionate global citizens who used every 21st century messaging medium available to let Air France know that cruelty doesn't fly.
"These monkeys will be saved from a terrifying journey and suffering and death in an abusive laboratory."
The monkeys were transported to Paris on a 20-hour flight from Mauritius. PETA officials say animals have been known to be locked in cages after being injected with harsh chemicals or infected with deadly diseases.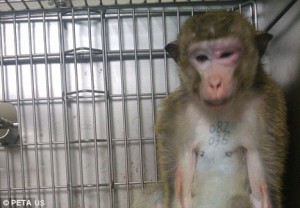 The PETA release said that Justin Goodman, the Associate Director of Laboratory Investigations Department of PETA US, sent a letter to Jean-Cyril Spinetta, the Chairman and CEO of Air France, on January 29. The letter urged him to cancel the transportation plan that was about to take place on February 1, 2012.
Mr Goodman said: "Air France should not tarnish its otherwise world-class reputation by facilitating this cruelty and continuing to associate with such cruel and unsavory organisations.
"We strongly urge you to cancel the shipment of 60 monkeys now scheduled for February 1st, 2012 and join other leading airlines by adopting a formal policy against shipping primates to laboratories."
The monkeys were raised by a company named Bioculture, in Puerto Rico, according to the release.