Two Poole motorcyclists are to travel across Europe to raise money for the British Heart Foundation.
4000 miles, 9 days, 6 countries, two motorbikes; Chris Seagal from Bournemouth and Kingsley Davis from Yeovil are setting out for an adventure.
The founder and deputy administrator of the Poole Quay Bikers Trust will be riding for 9 days, about 450 miles per day, through 6 countries, covering no less than 4000 miles in total.
They will be using approximately £1,200.00 of petrol in these 9 days, riding a Honda Varadero and a Suzuki V-Strom, 1000cc each.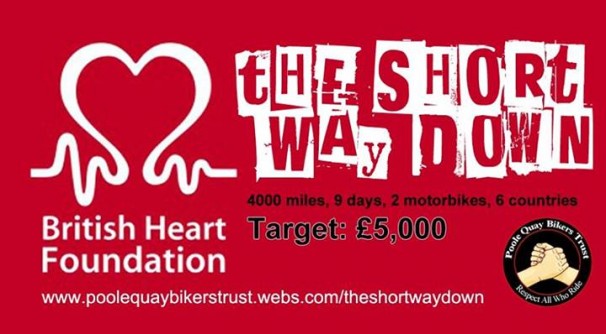 The expedition, code-named "The Short Way Down", includes France, Belgium, Luxemburg, Germany, Switzerland and finally Italy and its objective is to reach their fund-raising target of £5,000 for the British Heart Foundation.
The bikes will be fitted with GPS Vehicle trackers providing real-time feedback on their position.
They will also capture a lot of video footage using helmet cameras in order to create a DVD of the journey.
As Mr. Seagal explains: "we are always keen on combining adventurous riding with a meaningful purpose like this. We really look forward to this challenge, this is the very reason the Poole Quay Bikers Trust was founded."
"It's only one of the many fundraising and charity activities we have organized so far and we also focus on helping families of fallen bikers. What we need right now is some sponsors to support our cause. Donations are welcome as well."
Anyone interested can donate in JustGiving.com or email pqbt@ymail.com. Further information in the expedition's official site.