Though the troubles of a Glasgow based football club may seem miles away, the issue of administration is one which faces many football fans across the south, testing their loyalty to their club.
AFC Bournemouth, Southampton and Portsmouth have all at one time faced the threat of bankruptcy and administration in the last 20 years, and for the second time in as many years, Pompey are seeking an administration order.
Yesterday's news of Glasgow Rangers Football Club, the worlds most domestically successful football club, entering into administration has also had an impact on local football fans in the south.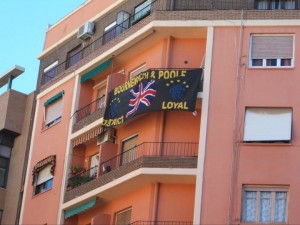 Bournemouth & Poole District Loyal Rangers Supporters Club, on average attracts around 15 people to watch Rangers matches in the company of fellow fans within the area. And on an Old Firm derby, the club can attract over 100 Scottish football fans.
This loyal band of supporters, mostly made up of Scottish migrants and their families that have settled in the region, also send a contingent of fans to European away games every year.
Many of these settled football fans also adopt local English clubs to support, such as AFC Bournemouth, Southampton and Portsmouth, even to the point in which they purchase season tickets.
A pre-season friendly between Portsmouth and Rangers in 2009, showed just how much support their is locally for the two teams, when Rangers fans sold out the away stand.
Summing up the mood of yesterday's news, one local Rangers and Portsmouth supporter said: "What a day to be a Rangers fan. Still could be worse, least our English team Portsmouth aren't in any bother…oh wait…"
Impact on levels of attendance
Recent attendance figures at home games for both clubs have been worrying off late.
And typically success on the pitch leads to increasing attendance figures, as can be found in average attendance statistics.
On average, Glasgow Rangers attendance figures are in excess of 90%. But in a recent Scottish cup match between Rangers and Dundee Utd, at Rangers home ground, Ibrox, there was an attendance of only 17,500 fans, in a stadium which seats over 51,000 suggesting economic uncertainty could stifle the number of fans turning up for games.
But, the dip in attendance figures at Ibrox during the Dundee Utd match can be attributed to TV coverage.
And despite little success at Pompey, last nights fixture with Ipswich, saw attendance figures of 14,330 meeting the clubs average level of attendance at 70%.
So although the fight for silverware may well be over, the spirit and support of Rangers and Pompey fans can still hold strong.