Navitus Bay wind park developers, Eneco, faced a torrent of criticism at a packed public meeting held by the Highcliffe Community Association last week.
The meeting was held to allow both sides of the wind park debate to air their views to Highcliffe's residents, whose sea view could be affected if the development goes ahead.
Mike Unsworth of Eneco said: "We understand the personal issues that people have and we have to consult with them, take their feedback and respond accordingly.
"I anticipate further changes to the plans which should be in response to these concerns, that's the whole point of the consultation process."
Some residents were forced to huddle around doorways in order to hear each side speak for half an hour before the floor was opened up for questions from the public.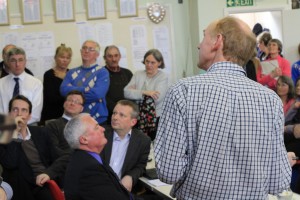 There was a heavy barrage of complaint and condemnation from the public for the Navitus Bay Plans and support for the Challenge Navitus group throughout the event.
"We are doing our best to inform the public and get them to participate, and I think we are being successful in that," said Andrew Langley of Challenge Navitus, "with this support we have to believe that stopping the plans is possible."
In a vote to show whether the residents wanted the wind farm development, only eight people showed their support, 7 were undecided and the remaining residents were against the plans.
One supporter of the Eneco plans had her statement aggressively heckled by the crowd.
Mr Unsworth said: "My confidence hasn't been knocked; we came here today having already appreciated what the concerns of the public were as they were voiced before."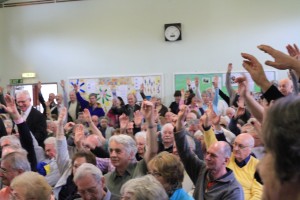 The support for Challenge Navitus' criticism was extensive, especially surrounding the possible effect on the sea views and tourism.
"You get the benefits wherever it is built; you need to avoid the negative effects which could occur here," said Mr Langley, "We have to decide as a nation, is this worth preserving or not?"
One of the main areas of criticism was for the "deceptive" visualisations which had been commissioned by Eneco.
William Wheeler of LDA Design, the company who created the visuals, said that the local people's concerns were "absolutely valid" but "misplaced."
All image credits: Tom Dale