The Winchester pub in Bournemouth was transformed into a mad hatter's tea party for the Freeway Poets evening. The fantastic Alice themed décor was complete with oversized playing cards and toadstools, tiny tea cup candles, the Alice in Wonderland soundtrack playing in the background, all topped off by the enchanting smell of incense.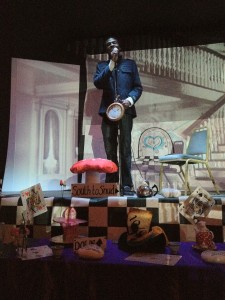 The evening began with an open mic where many local artists performed. There were an assortment of poems, some extremely insightful but some on the side of self-indulgence.
During the performances there was live art, where local artists created Alice in Wonderland themed pieces inspired by the evening which was very therapeutic to watch.
The main acts of the evening were Isadora Vibes, and Joshua Idehen.
Isadora wowed the audience with her erotic poetry which was both hilarious and controversial and most certainly not for the fainthearted. She had the audience both blushing with her descriptive language and in fits of laughter with her poem about male genitalia. She sang before many of her poems, giving her a strong stage presence and commanding everyone's attention.
Headlining was poet and musician Joshua Idehen. His poems covered serious issues with a comedic spin and he was very entertaining to watch. His poem about the riots last year was very thought-provoking and received a good reception from the audience. He also performed another touching poem entitled 'My Love' that was funny in all the right places. He ended his set with a poem about his father and pushy parents, which many in the crowd seemed to relate to.
For a newbie to the poetry scene, the evening was a real treat.