[jwplayer mediaid="9035″]
Poole Heritage Trail, a project which signposts areas of interest, has been launched  this week.
Unveiled by the Mayor of Poole, Councilor Graham Wilson, is the first such initiative in the country.
Mayor Wilson said: "It gives me great delight to be here. It will take us into 21st century. There are places you can visit any order you wish anytime you wish."
The project includes 11 signposts across the town, including Poole Town Centre, Poole Quay, Poole Harbour and tell the story of the town.
It was designed by City-Insights.com.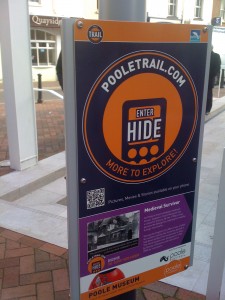 There is a strong digital element to the project. Stories, archives, films and photographs can be accessed on computers at home and on mobile devices at heritage locationswhere there are signposts.
The manager of the Poole  Museum, Michael Spender, said: "Poole Museum is a community museum . We now created a museum of the streets which reinforces our role in a community and it pulls tourism offer as well. In some ways it might be seen as a pilot scheme, and in fact everybody enjoys it, everybody uses it, I'd like to think we can role it out to other areas of our remarkable town."
Many people have been involved in it including members of leisure tourism transportation planning and regeneration, housing and community , customer service and communication and arts development, colleagues in the museum service who supplied many of the stories and materials that are on the mobile website and on panels, members of the Community Poole Heritage Forum , Rotary Club of Poole bay and many others.
The project took three and half years to complete and cost under £40, 000.
Picture by Agnieszka Bak