Poole Town are looking strong in their first season in the Southern League after a 4-2 friendly victory over Hamworthy.
The home goals came courtesy of a Scott Joyce hat-trick and a typical display of speed and strong finishing from Kevin Gill, both seeming unfazed by the freezing temperatures.
Poole manager Tom Killick said: "It was an opportunity for some fringe players to force their way into the starting 11, so it was more about that than the actual result. But it's always pleasing to win and we said beforehand we wanted to make it as competitive as possible." Full interview below.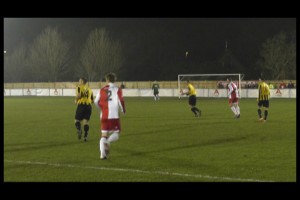 Improvements to Poole's home ground have allowed them to finally move up from the Wessex Premier League, after topping the table three times in a row. Hamworthy are currently eighth place in the WPL, so the Dolphins were definitely hoping to dominate throughout.
And it seemed that the home team were in complete control when a shot from the edge of the box (or perhaps it was a cross, only Jim Crossen knows), rebounded off the crossbar into the path of Scott Joyce after just one minute. Joyce reacted well to cleanly take an early lead.
Poole kept the pressure on and calmly defended a worrying attempt on their goal in the 26th minute. Joyce picked up the clearance just inside the opposition's half and found himself with just one man and the keeper to beat. He simply outpaced the last defender then easily took it round the keeper who had come out of his box to challenge him. He took his time before calmly placing a shot in the bottom left-hand corner.
With a strong lead, the Dolphins seemed to get complacent. Greg Horlock was left unmarked to the right of Poole's goal and did well to power home a headed goal from a high cross from the left. Then just before the half-time break, Sam Lanahan was not closed down in the box, giving him plenty of time to get the equaliser.
Some time away from the sub-zero conditions clearly had a positive effect. Poole barely seemed threatened in the second half, allowing Kevin 'pocket rocket' Gill to push forward and use his blistering speed to break through and take the lead back in the 67th minute. Scott Joyce then converted a corner in the 80th minute to complete his hat-trick and seal the win.
Joyce was pleased with the team's performance and told the Breaker about their ambitions for the rest of the season: "We want to push for playoffs, and we want to get promoted. In the first season in the southern league it would be a massive achievement, but you never know."
Watch the video for Tom Killick's view on what this result means for the Dolphins: