Poole's mayor has promised that the 12 candidates who ran to represent the district in the UK Youth Parliament will be among the VIPs on the first crossing of the Twin Sails Bridge.
Last Friday's event to elect the Members of the Youth Parliament had a record turnout of 128, all aged between 13 and 18.
Mayor Graham Wilson said: "I was just so impressed by how articulate the young people were.
"I think they should be the teachers of the present politicians.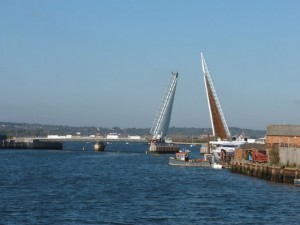 "They were just fantastic and I think they really deserve the privilege of being on the crossing."
Poole has been campaigning for the new bridge for over 30 years and there is a lot of excitement surrounding the opening in the town.
Newly appointed MYP for Poole Jack Matthews said: "I am very excited and honoured to be part of the Twin Sails opening."
Many of the local politicians expressed their pride in Poole's young people following the UKYP event.
Leader of the Poole People's Party Mark Howell said: "I certainly wouldn't have been able to stand and give a presentation like that when I was their age.
"I think what was really nice was not just how well all the candidates spoke, but how attentively and politely everyone else listened."
Mayor Graham Wilson tells The Breaker why he was so impressed with the UKYP candidates:
[jwplayer mediaid="8211″]
A community event to celebrate the opening of the bridge, including the UKYP participants, will take place on the 24th and 25th February, before the bridge is finally open to traffic on the 27th.
Related Links