Imagine a silent mountainous range with nothing but white powder surrounding you. The ski slopes and lifts are beginning to awake with early morning skiers and snowboarders, all hungry to feel that adrenaline rush; travelling at speeds of 80mph and experiencing the exhilaration of gravity propelling you forwards on a bright bluebird day. Nothing can beat those sensations of pure speed and serenity. Your day is filled with delicious food and laughter with friends as you traverse through the mountains, eventually finding yourself at après to complete the afternoon with a few beers, before heading back down the mountain while the sun sets. This is snow sports.
The 2022 Winter Olympian Benjamin Alexander, growing up in Northamptonshire, never envisioned competing on the slopes: "Skiing was something that only existed on TV for me for the most part of my life." His background never ticked the right boxes. Did his parents ski? Did they have a disposable income to throw away on glamorous apres ski trips? No, his parents – a British mother and Jamaican father – were both working-class. And did they live in the foothills of a scenic alpine mountain range? Not exactly, Northamptonshire was the furthest place he could be from the mountains.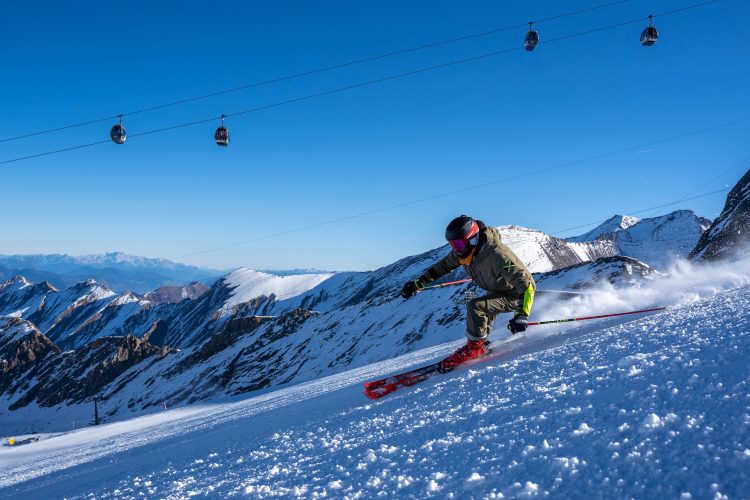 In Benjamin's previous life, he was a globe-trotting international DJ; partying and performing across thirty countries, five continents, even an appearance at Burning Man. His descent into the world of snowsports began whilst on a trip to watch his friends heli-ski, saying that "I saw my friends turn into superheroes by plunking on their skis and just disappearing off into the ridgeline and I thought this was the coolest thing I've ever seen and I wanted to be part of it."
Suddenly, he was dropping sound for snow.
Undoubtedly, skiing and other snow sports is the playground for the white middle class. A Diversity & Inclusion in Snowsport report from December 2021 was conducted in Britain which revealed that the "current snowsport audience is generally unrepresentative of the British population as a whole." Soberingly, it also revealed that the snowsports audience is "proportionally more likely to be male, are more affluent, heterosexual, able-bodied, and more likely to be white than the national populace."
Understanding the collective following of snowsports highlights one of the many reasons why this was the result of the report. Tim Fawke, Chief Executive of Snowsport England recognises the mountain to climb in making the sport more inclusive, "I think we've got a real challenge. We know, the sport is very much white middle class, and I think we've had pockets of success in certain bits. But overall, that is still a challenge that we have and we're trying to address."
Along with this stark lack of diversity, unfortunately, comes discrimination. The survey further acknowledged that 1 in 5 respondents involved in snowsports explained that they have "personally experienced or seen discrimination in a snowsport setting, and this increases to 1 in 3 people within minority groups. Does this reflect the experience of professional skiers like Benjamin Alexander, who has travelled to premium ski resorts like Whistler, Canada?
Benjamin, who skis mostly on the North American pistes, said he had personally never experienced racism or discrimination in snowsports, but his experience has been shaped by his mixed Jamaican and British heritage: "I'm half black and half white and so when you speak to mixed-race people they always have this eternal feeling of never truly belonging in any group because they are always just one foot in one camp and one foot in the other." He always represents the minority. "When I'm skiing with my white friends, I'm the black guy and when I'm hanging out with my black friends, I'm the white guy – or Carlton from the Fresh Prince of Bel Air." He joked.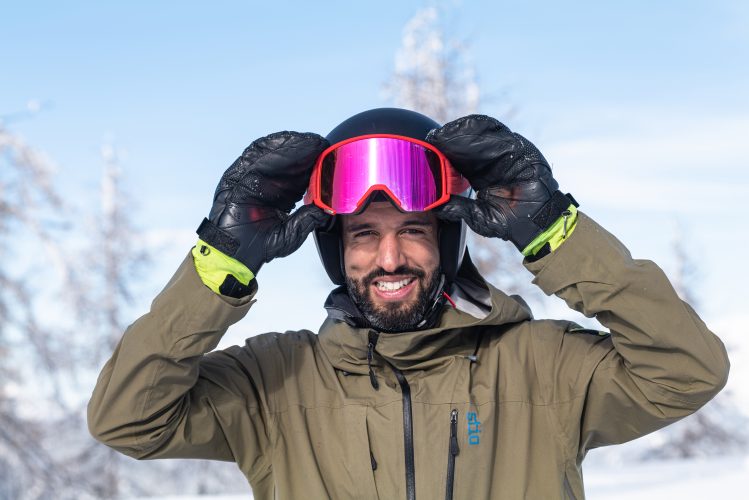 This skier is one used to standing out from the crowd. His first ski race lessons as an adult were in Mount Hood, Oregon, surrounded mostly by fourteen-year old kids. He's six-foot-six. He lived in Asia for ten years: "I'm just a freak in Asia, I've just been used to kind of feeling different and actually just revelling in that difference between me and my peer group. Being the black representative for the skiers and being of Jamaican origin and descent, they would always bring up that outlandish feat of the 1988 Jamaican bobsled team, and the movie Cool Runnings. And that's really how this idea [to compete] started. It started as a joke. It started as the 'you are the one black representative of our group and you're also Jamaican, you should go to the Olympics'."
Benjamin's dream eventually became his reality when he competed for his father's country. "The most important point for me is it's an incredible honour to hopefully have put a line in the sand where forever going forward there will be Alpine ski racers that represent Jamaica."
It's clear that skiing does have an image problem, and Benjamin's presence in the sport is at odds with that. The white middle-class elitist depiction that causes the sport to look unattainable is one of the sport's greatest battles. Tim Fawkes agrees, "Our sport is led by quite a lot of imagery. But I think half the challenge then is that a lot of these images are going to be of white middle-class people."
If this perception could be altered, snowsports could have a better chance of attracting a wider racial background and begin to challenge the current statistics. However, to do that the sport needs to work out how it lifts more people up. Do snowsport athletes like Benjamin Alexander see themselves as an ambassador or inspiration? As a leading light to adapt the snow path going forwards?
Benjamin views himself not as an all-defining athlete or icon, but as a more modest and humble sportsman. He sees himself primarily as the first brick in the wall. "I think the winter sports industry and the brands I've worked with have found it an easy pill to swallow for someone who could be an ambassador for black people."
Benjamin works with charities like The National Brotherhood of Skiers and the charity SOS Outreach – which aims to enrich children through outdoor activities – in the United States.
"I'm happy to be that gateway, that stepping stone, to bringing more people into winter sports."
He continued to explain how inspirational he has been to the minority communities, "I have received and still continue to receive messages from people that have been inspired to pick skis up later in life because of what I've done." By inspiring others through his work to break down the barriers of racial inequality within snowsports, Benjamin has created a community, especially in the United States, where children and adults can feel welcomed into the sport.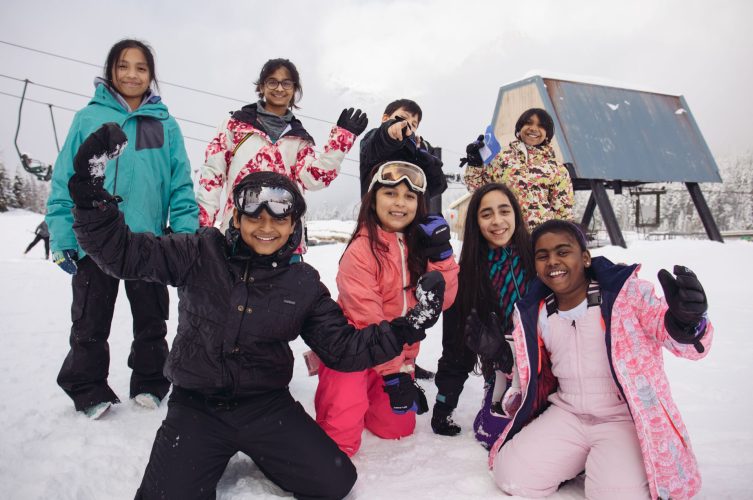 Benjamin still believes that winter sports still needs its own 'Tiger Woods moment', someone to come along and entirely change the game, for a stronger representation of people of colour to get involved and get interested. "I think like when Tiger had his successes in golf, I'm sure a whole swath of the non-white community went out and bought golf clubs or went to the driving range for the first time ever. Skiing really needs something like that."
The overwhelming obstacle to achieving this and increasing diversity? Money.
It's no secret that snowsports are expensive, and a novice to skiing faces an eye-watering shopping list: skis, boots, goggles, jacket, lessons, lift pass, and more. According to the 'Diversity and Inclusion in Snowsports' report from Snowsport England, "a high proportion of respondents recognise cost as a particular barrier to participation in skiing and snowboarding, with a huge 85% of the current snowsport audience indicating that the financial burden of the sport is a primary barrier to entry." This, however, was markedly higher among respondents from minorities.
This is a prevalent feeling that is echoed at the grassroots of the sport in the UK.
SnowTrax, an outdoor ski slope in Christchurch, Dorset has also noticed the economic factor to be a major problem. Dan Rogers, a ski instructor at the centre, commented on how the cost of snowsports impacts his clientele. "It is so expensive to buy a pair of skis. They cost in the range of £600 to £1,000 pounds so obviously this is an economic barrier which prevents people from certain racial backgrounds that may struggle to afford it."
But how does the sport tackle this problem? Dan believes the sport could do more to "provide better funding facilities for children to access the sport at an earlier stage," and notes that "it's still quite expensive and I don't think it needs to be."
Despite this, the expense of the sport doesn't seem likely to change overnight. Benjamin says "this will take time because there's still other huge disparities in other parts of life that pertains to skin colour, you know almost directly correlating to disposable income" and skiing "just has to be expensive because the infrastructure required to get people up and down mountains costs millions of dollars".
The solution within the sport is to try and bridge the gap, and instead achieve parity by giving on-ramps to people from lower income backgrounds.
Tim Fawkes says Snowsport England is trying to make using dry ski slopes and indoor centres cheaper and easier to access, and also working with groups to promote the sport and offer opportunities to those from different backgrounds. But it's a monumental mountain to climb ahead of them, and it's a task that other sports also share the burden of: "We're being very honest around where we are. We know we've got quite a long way to go and it isn't easy thing to change, but we're all committed and signed up to look at what we can do to make a difference and make us more appealing. I'm passionate about snowsports. I want more people to do it, more people to get involved and find the love of the sport."
But Benjamin Alexander thinks it's important to note that the solution isn't just economic. If snowsports wants more people to get involved, snowsports needs to consider its own culture. "Different cultures have fun in different ways and it's really difficult to try to force a round peg into a square hole and say this is the way this thing is done, you have to do it." Snowsports need to be more amenable to people of different cultural backgrounds by recognizing what appeals to them.
There is a future possible for everyone in the sport, whether that be an artificial slope in the UK or shredding the snow abroad. All people, of all backgrounds, could enjoy being out there in the mountains, where Benjamin says "there's not a single day that goes by where I don't almost want to pinch myself and think wow, this is the playground that I get to exist in."