Bournemouth Council has decided to go ahead with additional plans to develop Slades Farm.
The renovation, aimed to be completed by 2021, was discussed yesterday at the council meeting.
The development of the farm is expected to be helpful to the Winton and Glenmoor schools, where residents as well as students in the nearby areas could use the farm's sports and leisure facilities.
Councillor Rod Cooper, Cabinet Member for Economy, Leisure and Tourism, said: "We've already seen significant work taking place at Slades Farm with the official opening of the Bournemouth Cycling Centre last summer and the installation of a brand new children's play park and dog training area. We also have new cycle routes in the area thanks to the Sustrans 'Links to School programme' in partnership with the Council.'
The Bournemouth Cycling Centre and the children's play park have already been completed.
According to the Bournemouth Borough Council, other improvements, which will be developed, include the creation of dog training/exercise facilities and the improvement of signage in the area by 2012. The developments include a café based at the Bournemouth Learning centre and improvements regarding the skate park facilities as well as street lighting around the park to be completed by 2014. The renovation of changing facilities, toilets and a café by 2020 and the improvement of access in music and creative activities in general.
The vision also aims to achieve a Green Flag status for Slades Farm open space by 2013, building up a nature area and pond in the south west corner of the park by 2015.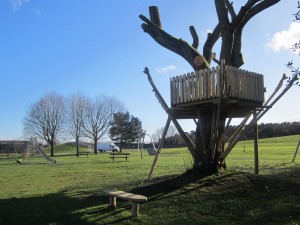 "It's important that we continue to work with our partners and collectively agree and give commitment to the long-term vision to transform Slades Farm for the benefit of all local residents and visitors," said Councillor Rod Cooper.
Related media:
http://www.bournemouthecho.co.uk/news/9487328.Green_fingered_helpers_needed_to_transform_Bournemouth_park/
http://www.bournemouthecho.co.uk/news/9474037.Slades_Farm_play_park_a_huge_boost_for_families/
Bournemouth Borough Council website