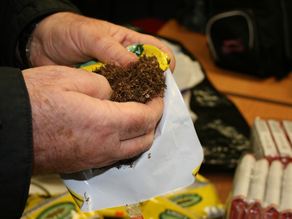 Smoke Free South-West launched  a multi-partnership initiative on the 25 February called "Illegal Tobacco", along with a website.
The website features video footage of NHS experts and anti smoking campaigners committed to stopping the flow of illegal tobacco.
Tom Scott, PR and Communications for Smoke Free South-West, said: "A partnership of bodies are involved in the campaign; including HMRC, Trading Standards Crime Stoppers, the primary care trust situated in the NHS, and every local government body in the South-West."
The site also gives the public the opportunity to help combat the illegal tobacco trade by pledging to their local councillor.
Concerns sparked the campaign when recent studies showed one in 5 smokers now smoke illegal tobacco in the South-West, and the trade in the South West showed the equivalent to £211m retail value.
Smoke Free South West Director, Fiona Andrews, said: "Significant progress has been made since February 2011 when we first launched the campaign to tackle the problem of illegal tobacco across the South-West. Our collective efforts to tackle illegal tobacco are having a big effect, but more can be done."
The campaign site states: "The quantities of illegal tobacco on our streets has substantially reduced, but it is still out there and we all have to keep a watchful eye out to protect our children and our communities and help stub illegal tobacco out for good."
It also warns the public of foreign tobacco brands brought into the UK illegally to be sold on the black market, and the dangers of foreign brand names made purely for the black market, such as Raquel and Jin Ling, that come with cheaper prices – less than £3.50 for a pack of 20. They can also come with foreign health warnings, lack of picture health warnings and have an unusual taste and smell.
Throughout March 2013 the campaign will hold public engagement events in local communities across the South-West to raise awareness of the dangers of illegal tobacco.
Feature image courtesy of HMRC via Flickr.