Students across the country have occupied college buildings and joined picket lines in support of a national strike by university workers.
Hundreds of students held sit-ins across universities in Sheffield, Birmingham, Sussex, Edinburgh, Warwick, Goldsmiths and Exeter on Tuesday to put pressure on college managers for an increase in staff pay. Militant picket lines were also in place, with Sussex students blocking their vice-chancellor, Claire Mackie, from entering campus.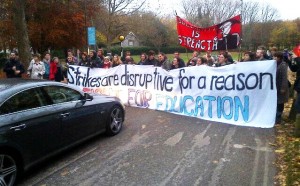 The action by lecturers and support staff in the UCU, Unite, EIS and Unison trade unions took place on Tuesday. It is the second strike in just over a month against a below-inflation 1 per cent pay offer by university managers. The unions want further negotiations over the offer to take place.
Workers in further education colleges also took action.
Goldsmiths College in London saw over 100 students take over its administrative offices on Monday evening, and occupied the building overnight before joining picket lines and marches alongside trade union members.
[/one_half_last]
Student occupier Stef Newton said, "We had a meeting about the strike and decided to support it by occupying and shutting down the building. We have seen an escalation in support for the strike all around the country because managers are refusing to negotiate over pay."
"It's important we go out on the picket lines together" – Stef Newton, student occupier
Newton said that it was in students' interests to support the strike. "It's part of the attack on education by neoliberalism, like tuition fees and increased privatisation, so it's important we go out on the picket lines together."
Solidarity
The National Union of Students (NUS) passed a resolution last month that calls on students to support the industrial action with which it stands "in full solidarity". However, the union stopped short of calling on students not to cross picket lines.
NUS executive member Amy Gilligan said student support was vital. "Having decently paid lecturers and staff is important," she said.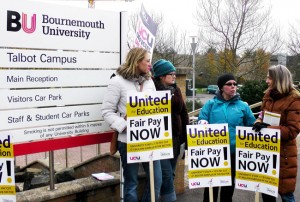 Gilligan added that the campaign for higher pay "has become part of the wider fight to defend post-16 education".
"We had solidarity from staff when students have taken action, so it's important to show solidarity to them as well. It helps to cut across attempts to divide students and staff – it gives people confidence to take action."
But other unions chose not to actively support the strike. The Students' Union of Bournemouth University (SUBU) has plans to survey student opinion before taking a position, a process which could take weeks.
SUBU Vice-President for Communications Annie Hall said, "Whilst we respect that NUS will often express solidarity with such campaigns, SUBU has a duty to represent the view of BU students specifically."
Hall said that SUBU hopes to have an online poll available to students by the end of term, following a period of research to provide students with information on the issue.
She continued, "Whilst we are sympathetic in general, until we can accurately gauge the student view through the results of an all student vote, we tend to believe that any action should not adversely affect or disadvantage our student members."
Support
Members of the UCU lecturers' union have welcomed the support students have offered.
UCU national Vice-President Elizabeth Lawrence told the Breaker, "Higher education workers really value student support. We believe that a good quality education for students and decent pay and conditions for the workforce should go together.
"Strike action while pay negotiations are still on-going is indefensible" – Oliver Cooper, Conservative Future
"UCU members work in education because we believe education makes a valuable contribution to society. Unfortunately the university employers do not value their staff."
But Conservative Future's national chairman Oliver Cooper condemned the strike outright, saying lecturers should "do their job and teach".
"Strike action while pay negotiations are still on-going is indefensible," he said. "The vast majority of students will be appalled at lecturers taking their education hostage to achieve the UCU's own ends."
Cooper added that Conservative Future, the student wing of the Conservative Party, "oppose this strike and support all staff that cross picket lines to continue to ensure their students don't miss out".
"By refusing to stand up to bully unions, the NUS and the students' unions have betrayed students," he added.
Pay
Unions claim there has been a real terms drop in pay of around 14 per cent since 2009, while university heads have received a real terms pay increase of some 24 per cent since 2008.
Elizabeth Lawrence added, "[University employers] expect us, year on year, to settle for pay rises below inflation, while expecting ever increasing standards of work performance.
"University employers do not value their staff" – Elizabeth Lawrence, UCU
"Some of our students will work as researchers, lecturers and administrators in universities after graduation. We hope that we can pass on to them a profession which is worth joining."
NUS president Toni Pearce said in a statement, "Students want the staff in our universities and colleges to be treated well and paid fairly. We want to see a speedy resolution to this dispute and for that to happen we need to see the employers getting round the table with the unions and negotiating a fair and sustainable settlement.
"Our own research shows that more than half of UK universities pay at least some of their staff less than the Living Wage. It is those on lower wages such as porters, cleaners and kitchen staff who have already lost out in the pay squeeze and now stand to lose out again."