Residents, students and business owners from Bournemouth have been discussing the future of the town's nightlife at the first of two workshops.
The project, named 'Bournemouth By Night', aims to reinvent the image and reputation of Bournemouth after dark.
An eclectic selection of people were invited to voice their opinions, including taxi drivers, council workers and even face painters.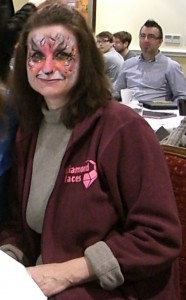 Ronnie Murray, from Diamond Faces Face Painting, and Nicky Kay from FitKid both attended, wearing intricate cat makeup. Miss Murray heard about the workshop through the local paper: "We work with kids. As soon as we saw the article about this project particularly wanting to entice more families into the town centre, we took an interest."
The initiative is being run by urban design and planning studio, Feria. Company Director Richard Eastham was happy with how many different groups were represented: "We've got a police officer, safer communities people, there's a priest. We didn't want a room full of councillors, we didn't want a room of students, we wanted a balance. Looking around, we seem to have achieved that."
John Ship, night-time economy coordinator for Bournemouth, said: "There are so many people who work in the night-time sector to make this a better and safer place. We feel like we are moving in a very strong direction, but as yet we still do not have a positive vision or strategy for the town at night and this project is about filling that gap."
Mr Eastham started off the workshop with a thought-provoking presentation, making use of strong images showing how people make use of the town centre at different times of the day. Listen to the highlights here:
The attendees were divided across eight tables, each with a different theme, such as licensing and regulations, safety and security and public walking space. Each group spent 20 minutes at each of these workstations so that a general consensus could be formed.
Safety generated a lot of discussion, with each group highlighting Horseshoe Common as an area that didn't feel safe at night. Mr Eastham said: "When you have a young crowd, with large posters [promoting alcohol], on a narrow pavement, it's ripe for trouble. And that's where it happens."
This was the first of two workshops at the Durley Dean Hotel. The next will take place on 24 April.
Where do you see the future of Bournemouth's night life?