Greece has so much to offer in regards to diversity. Each island has its own hidden gems.
Where to go: If you only have two or three weeks then a great place to start is on the island of Kos. Visit the castle and cycle along the excellent cycle paths. In Kos you can expect to enjoy a vibrant social scene with many bars and restaurants lining the streets. The square is picturesque but fairly pricey so if you are on a budget it is better to eat down one of the many side streets.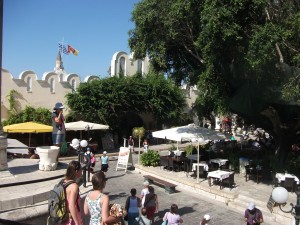 From Kos port it is a 4-hour ferry crossing to the stunning island of Santorini.
Santorini is a huge tourist attraction so be prepared to queue in the cobbled streets to take that perfect photograph of the marshmallow-like buildings, which sit beautifully within the rugged cliffs. Oia is situated at the top of the island and is well worth a visit, if you want to spice things up with little bit of adrenaline hire some quad bikes to tour the island.
Lioyerma Lounge Café Pool Bar is a wonderful café style swimming pool area for the public which has the most incredible views of the sunset. Although it is free to go there expect to spend around 10 Euros per person on food and drink.
Fira is a town closer to the port. It has many vibrant markets along the bustling side streets with a wide choice of taverna's and restaurants. The town offers excellent shopping but be aware- you are in Santorini and prices will be higher.
From Santorini many of the islands are easily accessible. If you are looking for a party experience do not underestimate Ios. Far Out Beach is an un-forgettable experience. It caters for all budgets. You can stay at a luxury spa or one of far out's apartments. There are also many bungalows and tent style accommodation on offer. Be warned, having spent 5 nights in a tent (dog kennel) it became increasingly uncomfortable and I did leave with the 'Ios cough'.
At Far Out Beach the ambience is like that of what you would find at a cool beach bar in Ibiza. The town is always lively during the summer and the tourists are predominately Australian. A bar called Slammers is a always a popular one, but I am not sure why! You wear a helmet and order a shot at the bar and the bar staff whallop you on the head with whatever they can find; a bat, stool, hammer- you get the idea!
If you are looking for a little more luxury check out the cool island of Mykonos. It is expensive so go with deep pockets. Mykonos is stylish and often referred to as a smaller Ibiza. However it depends on what 'scene' you are into. Mykonos may be a little pretentious for some, or classy to others.
An Encounter, Kos, Kardamena: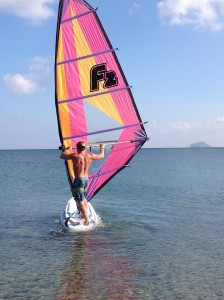 As he strolled into the bar, hair tied back, bleached blonde from the sun it was obvious he was from a Mediterranean origin. As we spoke it was evident we had an immediate commonality; open minded free spirits. Unbeknown to me, the next three and a half weeks changed my life. He ran a windsurfing school and offered to teach me to windsurf. I say offered to teach me, I got one lesson and was left to figure it out for myself.
The first few days learning to windsurf are torture. You are bashed in the face by the boom, catapulted off the board face planting into the ocean and you think to yourself- why am I doing this? But then it pieces together and as you soar across the crystal clear water with the sun warming your bones and the wind in your hair it is a truly romantic, energising and very humbling experience.
Windsurfing is not just about a sail and a board it is a lifestyle choice which indulges in beer, reggae and wonderful people enjoying the same sport. I feel privileged to have met such characters in Kardamena. At a first glance Kardamena is a little scruffy, Bar Street is full of English holiday makers but that is merely the surface, what lies beneath is a culture of friendship, warmth and happiness.