Bournemouth Magistrate's Court is to close, along with 85 other courts and tribunal houses across the United Kingdom, the Ministry of Justice has announced.
As part of government austerity plans, which aim to cut public expenditure in the civil courts by £700m, Bournemouth Magistrates Court on Stafford Road is to close by the end of 2016. Cases previously heard in Bournemouth will now be heard in Poole Magistrates Court and the building will be sold to developers.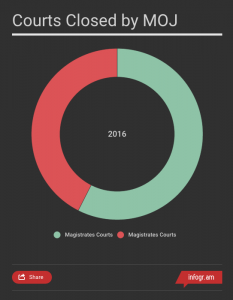 "I think this is a terrible decision," said Tomos Povey, political correspondent for Nee Hao Magazine. "It negatively affects the principle of open justice. How are people going to trust that justice is being done if firstly all the civil courts are closing?"
"I understand that the government wants to save money," Mr Povey continues. "But this isn't the way to do it. They say that they want to 'digitise' the civil courts, but that's a plan which has yet to be agreed, but they're still pressing ahead and closing courts before any replacement is in place."
Eighty five other courts and tribunal houses will also close, after a Ministry of Justice report delivered its findings in early February. The government's report follows independent calls for reform of the civil courts from leading legal voices. In February 2015, Professor Richard Susskind delivered a report recommending that the UK's civil courts system move entirely to the internet.
Prof Susskind's report recommended a system based on that currently used by eBay in the United States which deals with nearly sixty million cases among its traders each year. It would have three levels. The lowest would provide online evaluation, helping users to categorise their problem and explaining the available options. Tier two would bring in online facilitators to help parties through mediation and negotiation. Only the third tier would require online judges, full and part time members of the judiciary who would decide disputes on the basis of papers submitted electronically – though supported, where necessary, by telephone conference calls.
Professor John Williams, head of Aberystwyth University's Law and Criminology department, was in favour of the plans:
"As far as I can see, this is the correct way forward for the civil courts in the UK. Currently, the system is untenable: over-staffed and under-funded and with too many buildings to take care of. I really believe that digitising the civil court system will help to save money in the first instance and also most likely increase people's access to justice. The internet is a very powerful thing."