The United Kingdom Independence Party (UKIP) has surged in popular support nationally in recent years. Whether that support can be translated into votes in the Winton East by-election is another matter.
However, the council ward, which has in recent years fluctuated between Liberal Democrat and Tory control, could see a breakthrough for the party, if national trends are to be believed.
Lib Dem candidate Matt Gillett said in an interview with the Breaker earlier this week that "UKIP is coming in pretty close" to his party in the election.
Laurence Fear, the 20-year-old UKIP candidate, has worked in Winton since he left secondary school. He describes himself as a "classical liberal" who currently works as a sales adviser.
He is one of six candidates contesting the Winton East by-election that was brought on by the resignation of a Tory councillor, and, if elected, Fear would be the first UKIP councillor in Bournemouth. The election takes place on 14 November.
The last time UKIP stood a candidate in Winton East was in 2008, where the party received a 3.1 per cent share of the vote. They gave it a miss in 2011. I asked Fear if he thought he had any chance of winning.
"I think we have seen from the results in places like Eastleigh, and more recently in the May local elections, that the political spectrum in the UK is changing, and when you vote UKIP, you get UKIP," he said.
"We are no longer a three party system. Left wing and right wing doesn't seem to exist anymore as they're all fighting after the same votes, but the traditional parties are losing support," he added.
"UKIP is the only political party that has policies that make sense to the majority and because of that we're the only party that's growing. Plus I have a strong local UKIP team behind me, so I believe anything is possible."
Why did Fear decide to pick up his party's baton in the by-election race? "I have been a member of UKIP since I was 16 and I feel I am ready to run for a local council seat," he said. "Standing in Winton East is a terrific opportunity, and if I win I'll inject some youthful energy into the town hall.
"I believe councillors expenses should be stopped" – Laurence Fear
"I have talked to many people and the main issues and worries are local services and anti-social behaviour. I can highlight and prioritise local services, also I will work in partnership with the police and local authorities to tackle the anti-social behaviour problems.
"UKIP is unique in that we don't have a party whip, which means I would be an independent voice for Winton East in the council chamber."
Expenses
On the specifics of life as a councillor, Fear said, "I believe councillors expenses should be stopped, because when you run to be elected as a councillor you run because you want to improve local services and surroundings for the benefit of the public, not putting your snout in the trough to see what you can get out of it for yourself."
So does that mean Fear would not claim any expenses if elected?
"That is correct, on the expenses question I believe a councillor should get no more then a cup of tea," he said.
That would be a stark contrast to his party leader Nigel Farage, who boasted in 2009 to have claimed £2m in expenses as a member of the European Parliament, "It is a vast sum," Farage said at the time.
But with people feeling the economic squeeze on their pockets, what could a UKIP victory offer to them?
"By leaving the EU we will save over £50 million a day so that's not bad for starters," he said. Fear added that Britain should be looking elsewhere for alliances.
"There are a group of countries out there who speak the same language, have common law and have some of the fastest growing economies in the world and they are our kith and kin in the commonwealth, we need to re-connect with them now more than ever," he said.
"We would be able be to cut the red tape on small to medium size business so they can employ more people and boost the economy."
What sort of relationship should we have with the commonwealth, I ask?
"I believe we should have a simple free trade agreement with the commonwealth, with the EU and with any other country that wants to be friends and wants to trade with us," he said.
"The most important issue on this subject is that we should be able to make the decision on who we trade with via bi-lateral trade agreements negotiated through accountable representatives in the British Parliament and not unelected bureaucrats in Brussels."
Immigration
Another UKIP focus is on immigration. But Bournemouth has a traditionally low level of non-British born people, so does that make any difference locally?
"Immigration has a knock-on effect to the surrounding areas," he responded. "So whilst it's true that our area is not a historical destination for mass immigration, we still see the effects in local services, or primary school places.
"I don't believe that while we have high youth unemployment, we should be opening up the unskilled labour marked to increase the pressure on the young people who are going to try and find a job once they leave education."
But, he argued, there was such a thing as "good" immigration. "One positive point on immigration in Bournemouth is there is a large language school base, which brings in overseas students to study, and in doing so there is an increase in revenue to the local economy," he said.
UKIP members nationally have made a series of remarks that seem to target Muslims. In one example, Farage (again) said, "On the question of Islamification, I think we have to do a bit more – probably starting in our schools – to actually teach people of the values of our Judeo-Christian culture."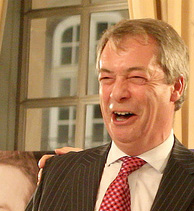 Farrage followed that up, at the same meeting, by praising the attitude of the Australian government, which he characterised as saying, "You're welcome to come here and to have your children here, and to bring them up as Australians. But if you're coming to take us over, you're not welcome."
I asked Fear if UKIP had helped to stoke up the idea that Muslims are a threat, which was feeding the popularity of groups like the English Defence League.
"I do not believe UKIP has stoked any ill feeling to ethnic groups," said Fear. "UKIP is a non-racist, non-sectarian party and has members from all backgrounds."
He went on to link the issue of Muslims with immigration, "I do believe the Lib/Lab/Con parties have stoked up the fire by not listening and ignoring the concerns of the public on immigration. So to tackle the problem of the EDL (and all extremist groups) we need to allow democracy to flourish once again."
He added, "We need to have open and honest debates about the things that people are genuinely concerned about. While doing this we engage and educate people, telling them about good immigration, and also the 'not so good' too. It's through a transparent approach that we can all unite and be proud of our country."
I then asked whether Fear would distance himself from people who might vote UKIP for Islamophobic reasons in the belief that the party was anti-Muslim as well. "I believe UKIP has made it clear that we are a non-racist, non-sectarian party, and we are certainly not targeting voters who hold those views," he responded.
Moving onto the specifics of what needed to change about Bournemouth Borough Council, Fear said, "I would like to see more direct democracy where the residents of Bournemouth can make decisions on issues that matter to them.
"Recently Bournemouth Council spent £89,000 on a 'Welcome to Bournemouth' sign – the thing that irritated a lot of people was that there were already two welcome signs up on the same piece of road.
"And they have good form for wasting money too. Aside from the IMAX debacle, we also have a council that wasted millions on a surf reef without any surf. Of course the fact that they were duped by an external company is unarguable – but how anyone in their right mind would pay £3.5m for bags of sand when they are sitting on seven miles of the 'golden' stuff is quite bewildering," he added.
"UKIP has made it clear that we are a non-racist, non-sectarian party" – Laurence Fear
Issues
Fear said that the issues on which he was running include local referendums on major decisions, prioritising services for local people, fighting crime and anti-social behaviour, and homelessness in Winton.
I asked him to be specific on homelessness, how would he take on such a huge issue? "I fully support increasing capacity in existing shelters to help people who are forced to sleep rough in shop doorways," he said.
Finally, on students in Winton – an issue of contention for some residents – Fear said, "I believe that events like Bournemouth 7s have helped bring the two groups together which has been a very positive move.
"But there is still work to be done and I believe the more interaction the two groups have with each other the less friction there will be."
The Winton East by-election takes place on 14 November. Also standing are Matt Gillett (Liberal Democrats), Sandra Hale (Green Party), Michael Goff (Labour and Co-operative Party), Kathleen Mortimer (Independent) and Patrick Oakley (Conservative). The Breaker will provide further profiles of those standing in the run-up to polling day.