That's David Cox – one of among 20,000 fundraisers, who volunteer to work for the Royal National Lifeboat Institution.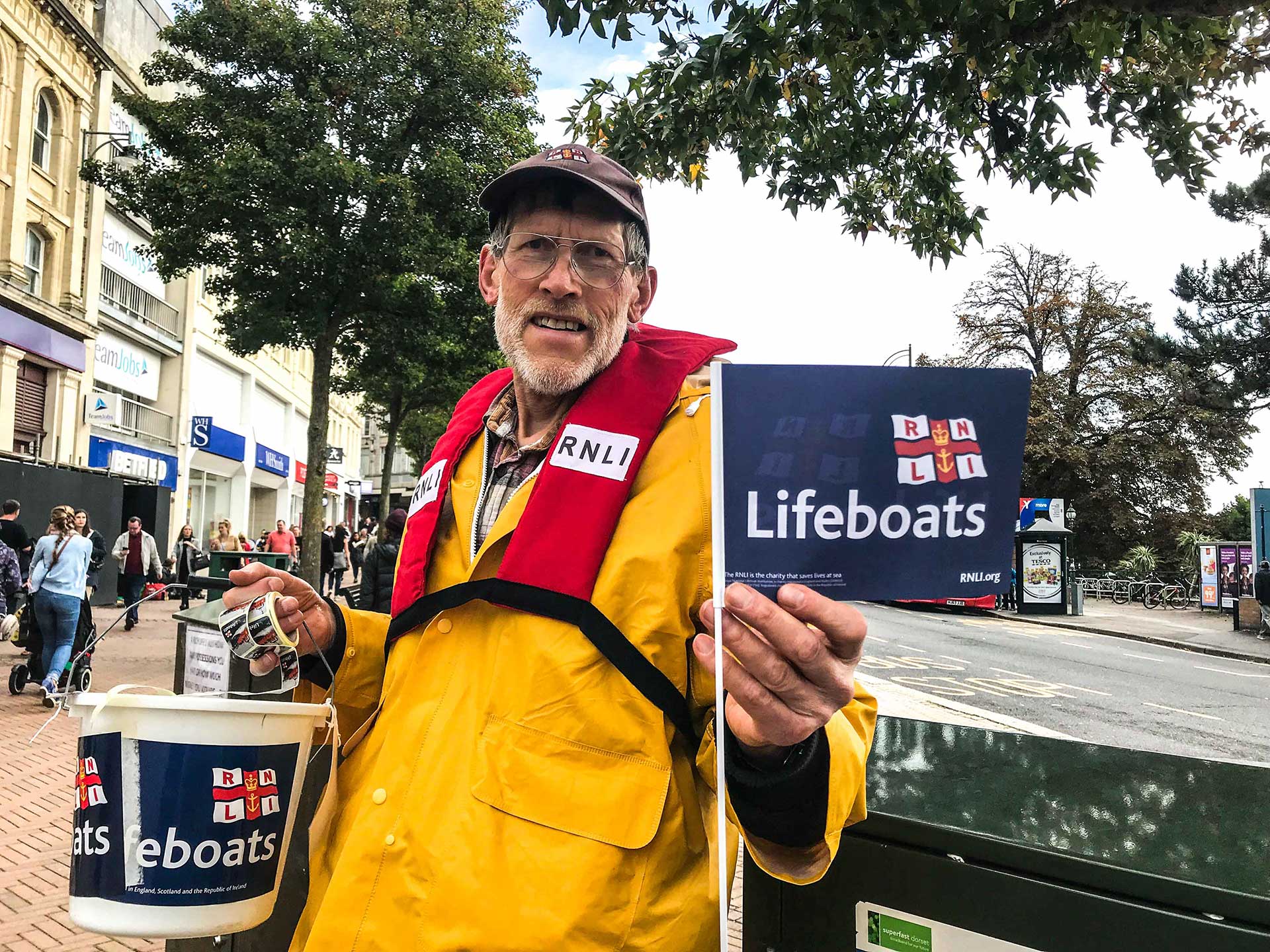 RNLI volunteer's story
David had been standing on the street for almost 3 hours and tried to engage local people and tourists, saying: "You can't be aggressive in getting people' attention. Sometimes I got neglect but I have a flag". "The bad weather is actually the only difficulty. When it is rainy, people don't stop", he added.
More than collecting donation, I can share a lot about my charity's stories and spread our vision to society.

– by David Cox
Despite the difficulties, David happily told The Breaker: "Maybe it is quite uncommon to see such an aged fundraiser like me. I just want to devote my time for volunteering, without any salary, and you see, I am happy to do that. There are some people even come and talk to me. More than collecting donation, I can share a lot about my charity's stories and spread our vision to society."
This periodically face-to-face fundraising activity, together with donation by phone, text, post; or  internet, provides 94% of the RNLI's total income, which is spent on lifeboat crew member training, equipment maintainance, lifeboats and shore facilities expense.
Everyone's a volunteer
While the hard work of David and his local fundraising team is highly recognised, there are plenty of other ways that public could get involved and support the RNLI and other charity organisations.
Mrs. Maureen, a local passer-by, said: "I have ever donated for Lifeboats many times. Whenever I see them on the street, I give them a little money as a gift. It's good what they do to save lots of lives at the sea."
An international student, Ms. Kim Chu, said: "I've been living here for 3 years and today is the first time I donated for them. But without a deep pocket, it's supposed to be greater for students like us to support the charity by joining in the volunteering team, I think."
Setting a goal for 2019, which would be a progress towards a 50% reduction in drowning and declining trend in serious incidents, RNLI always welcome the public's help. RNLI is now calling for volunteers to fill a wide range of vacancies: from lifeboat crews to press officers, fundraisers to shop volunteers.