The night at St Michael's primary school in Bournemouth on Saturday April 16 was chilly with temperatures dropping to one degree, but Lorraine Moalosi, 21, would not let that stop her.
She sat very quietly in a makeshift cardboard shelter with a shiny green blanket wrapped around her legs, as she puts on her jacket – shielding the cold night outside.
"It's actually my birthday, in like…four hours at midnight," she says, giggling.
Ms Moalosi, a second year student at Arts University Bournemouth, was going to be 22 by midnight.
She could have been anywhere that night – in a restaurant, at a movie theatre, a bar – but she had chosen to spend her birthday at the YMCA Bournemouth Sleep Easy 2016 challenge with 64 other participants.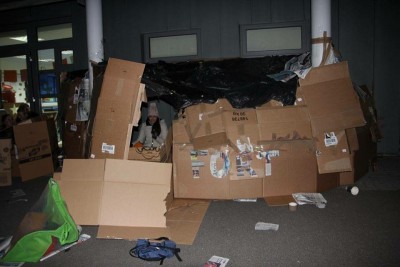 The Sleep Easy event is a fundraising event with the aim of raising money to help change the lives and of vulnerable people.
"This is a national YMCA event; the idea being that rough sleeping is a growing issue across the country," says YMCA's Bournemouth deputy director, Mark Inkpen.
And Ms Moalosi with the others, were determined to make it through the night as they busied arranging their temporary homes for the one night.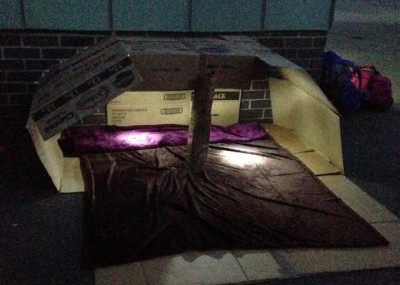 "Now I know that while I'm going to be spending just this one birthday here, some people spend multiple birthdays outside, with nowhere else to go," Ms Moalosi said.
The event started at 8pm until 8am and the participants engaged in several activities.
In the morning, the Salvation Army prepared and served breakfast to the participants.
Fitri Rachmawati, another of the participants still wearing layers of clothing says: "before the event, I didn't know what to expect and how it feels like to be homeless. But last night, I felt it – it's really, really hard, and that's why lots of homeless people have health issues…just one night is really hard."
Another of Ms Moalosi's colleague, Harry Coulson, says spending just one night outside has enabled him to realise the safety problems rough sleepers face at night.
"This is quite a secure place and safe but I couldn't imagine doing this, sleeping in somewhere like town on a Friday, Saturday night, where you get people drinking, it must be pretty scary."
Ms Moalosi – now 22 years old – gazing through the peeping sunlight says it was really challenging sleeping outside for just one night, and she now knows how vulnerable homeless people are.
"It was very hard, harder than I expected. I had so many layers on but still it didn't make a difference and my fingers are freezing…

"It was harder than I thought and at the end of the day, we have to realise that people actually go through this kind of stuff," she says.
Sleep Easy started in 2010 and hundreds of people across the UK have raised almost £1m pounds by choosing to 'sleep rough' for a night in solidarity with their local homeless population.