Staff at the telecommunications provider, 4Com, will descend from their new 100ft-high central Bournemouth office, known as One Lansdowne Plaza, in a bid to help Hope Housing and the Hope AOK Rucksack Appeal.
The building, on the St.Swithun's roundabout was completed in March last year and is seen as a flagship for the redevelopment of the Lansdowne area.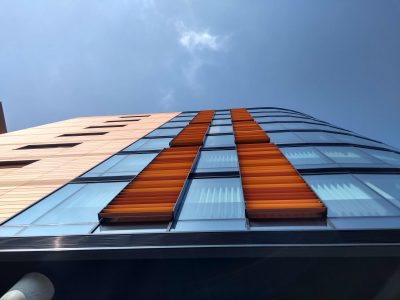 Hope Housing, also based on St.Swithuns Road, was founded in 2009 and provides support, training and mentoring to homeless and vulnerable people in the Dorset area.
The charity currently provides supported housing to over 90 people, giving advice to people on a  range of issues from addiction and trauma to unemployment. Through their rucksack appeal, they distributed around 700 help packs last year to those living on the streets or in sheltered accommodation.
Jane Joy, Funding Manager for Hope Housing, says, 'we are absolutely delighted to have been chosen by the 4Com Foundation to the beneficiaries of this event. It is just a coincidence that they are now our new neighbours!'
'We actually have 5 of our Hope Housing residents taking part in the event too'.
Roger Cracco, an employee at 4com who is taking part in the abseil, says, 'like everyone I am concerned about the homeless people in Bournemouth and this is a great charity. My personal aim is to raise over £100'.
The 4Com Foundation, which organised the event, posted on the justgiving website that they hope to raise £25,000 for the cause.
The event takes place on Friday 29 March from 9.ooam.