The audience at Poole Lighthouse reacted with joy and laughter to a new adaptation of the 1972 vintage comedy, 'Absurd Person Singular', on Saturday 10th March.
The still fresh and grotesque comedy was originally written by Alan Ayckbourn, arguably one of the Britain's most popular living playwrights. The play explores the fickleness of fortune by presenting us with the changing lives of three couples.
The action is divided between three different kitchens on three successive Christmases. In the first act, Sidney Hopcroft, ambitious tradesman, and his wife Jane, are doing everything to impress and entertain two other couples: lecherous architect Geoffrey Jackson and his depressed wife Eva, and aging banker Ronald Brewster-Wright and his snobbish wife Marion.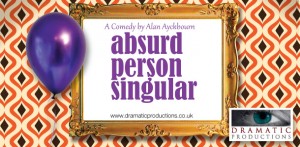 In the second act the fortunes of these couples gradually begin to change. It turns out that Jackson's wife tries to commit suicide and the banker is bankrupt. Finally, we observe how the social dynamic has been inverted, Sidney, whose performance is entirely amusing, triumphs over the people who once patronised him.
Sean Pogmore, who played Sidney, commented on turning into his character: "I found it quite difficult to make him a low status character, because I am so much taller than all the other actors on stage."
He added: "I think the hardest part is trying not to laugh on the stage, because there are so many funny things happening."
The play is very entertaining and gives the viewer a feeling of staring through the windows of these characters' homes. I would recommend it to anyone who likes to have a bit of laugh in the theatre!
We've got an exclusive interview behind the scenes with Sean Pogmore, who plays Sidney Hopcroft. He told us more about the play and his career plans. To listen click below:
[audio:http://www.thebreaker.co.uk/wp-content/uploads/2012/03/play-review_mixdown.mp3|titles=play review_mixdown]