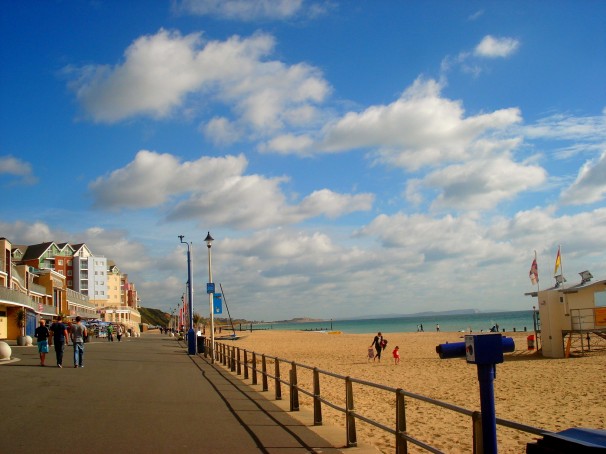 Despite what most people believe, for me, Boscombe is a place for reflection. I can attend all the yoga classes that FitSpace gym has to offer, but nothing gives me peace of mind like a walk through the loveable hodgepodge that is Boscombe.
A relatively small suburb east of Bournemouth, Boscombe is said to have derived its name from "Boscumbe", an old English word meaning a valley overgrown with spiky plants. Today, this can only and aptly refer to the hairstyles sported by most of its eccentric residents.
Part of Boscombe's charm is that it always looks like it could use a wash.
"Boscombe is one big bad-taste party, but that's its hidden beauty," says resident Ida Seim.
The antics along Christchurch road will tell you all you need to know about this town. Yes, there is a park, but more often than not it is occupied by what looks like the cast of Danny Boyle's Trainspotting. Occasionally you might even spot them at a bus stop feeding their pit-bull terriers MacDonald's cheeseburgers. You will see more satisfied customers emerging from tattoo shops than from KFC, more cigarettes in hand than ice cream cones. Here, everyone is counter-cultural, a revolutionist, an ideologist.
Anything and everything goes in this creative yet peculiar neighbourhood because outrageous fashion is core to the Boscombe identity. Look no further than Honeycombe beach: this long strip of flamboyant modern-day beach huts screams with colours of canary yellow, sky blue, and ruby red.
For something more bustling, there is always the open-air Boscombe market. "The people of Boscombe are as diverse as the market itself," says Rod Wilson, Boscombe market manager.
On such occasions, I install myself in an independent corner café, Café Boscanova, with a cold smoothie or a hot cup of coffee, and let my mind drift. I watch the unique spectacle slide by and people as diverse as the market itself emerge: immigrants from Asia, South America, and the Middle East with stalls including fish-mongers, meat-auctioneers, organic farmers, hand-made jewelry, and vintage clothing.
On these days the narrow streets are packed with pedestrians – some have come to shop, while others, like myself, for self-discovery. "I go there when I most need to understand myself – when I need to sit and think, or read a good book in peace, basically when I just need to be alone." says market goer Trisha Rane.
But chain coffee shops and retailers continue to penetrate into what seems to be the counter-culture fortress that is Boscombe. Among local cafés, the red-and-white sign that all Bournemouth residents are so familiar with awkwardly jumps out at you, reading: "Costa Coffee".
It is a place where a hemporium and reptile shop can stand next to the award-winning Thai restaurant, Koh. What it needs is for residents to embrace and appreciate the quirkiness this suburb has to offer. It would be a shame to lose out on what Boscombe has to offer to major retail stores that are, as it is, a fifteen-minute walk away at the Bournemouth town centre.