A Vintage Market was held in Boscombe Royal Arcade to help small businesses and provide opportunities for local artists to show off their talents.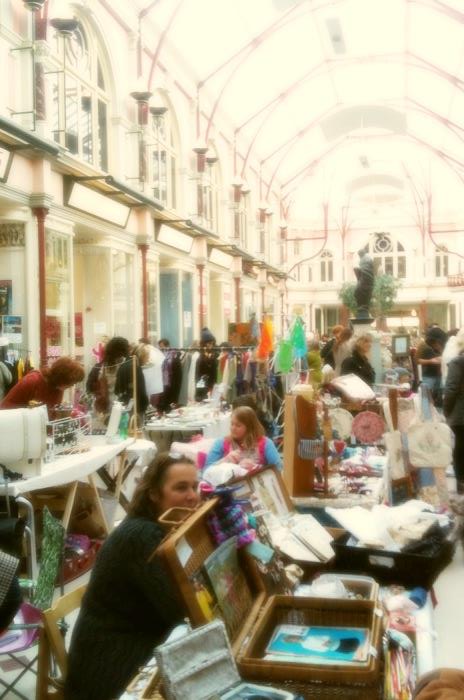 Boscombe Project Officer Sally Turner said: "The area is defining itself as a location where creative individuals and co‐ operatives can thrive."
The regeneration began with the launch of the Creative Industries Business Support programme by the Boscombe Regeneration Group in last fall and with a growing positive reputation, the event continues to happen every month.
Supported by the Boscombe Area Regeneration Group, Boscombe Vintage Market (BVM) first opened in October 2010 and it encourages creative businesses trading in antiques, art and vintage clothing.
Debbie Ward, one of the stallholders from BVM, said: "The market is fantastic, it brings everyone together, support what we want to do and was trying to do. "
"It helps promoting our business, we now see lots of regular faces "
With the support from the programme, Mrs Ward is about to open her first geek boutique store in the up coming year.
The market involve diverse group of stallholders and visitors, from local people to students, age 12 to 70, the local people said it improve the communication between the society.
Most of the co-operators who help in the market are working as volunteers and are pleased with the joys it brings in their local community.
Sara Cheng, head of volunteer co-operator, said:
"This is the third time we held in the Arcade, the build is beautiful, it is such a great atmosphere here for us. I personally enjoy the market very much and I think we are doing very well."
The market is open every first Saturday of the month from 10am to 4pm. Stallholders are now preparing the special Christmas market for December. The Regeneration Group is expecting the continued growth of the market in the future and planning to launch more other creative activities within Boscombe town centre in 2012.
Useful links
The official site for Boscombe Vintage Market
The Boscombe regeneration group