Designers behind a controversial offshore wind farm are meeting the public in an attempt to "strike the right balance" with their new plans.
The minds behind Navitus Bay, a proposed wind farm off the Jurassic coast, have begun their third round of public consultations in order to gauge public opinion.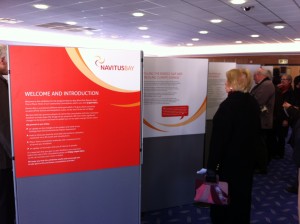 Speaking at Bournemouth International Centre, project manager of Navitus Bay Mike Unsworth said: "What we ultimately get from this process is we get feedback, and then we need to consider how we deal with that feedback and whether we'll change the proposals based on that."
"I think what we need to do is to strike the right balance between developing a viable project and also dealing with local and regional sensitivities of this project," Mr Unsworth said.
In an attempt to address fears over the visual impact of the wind farm, Navitus Bay's exhibition includes an interactive 3-D model which allows the public to see views of the wind farm from varying points along the Dorset coast.
As a result of previous consultations with the Maritime and Coastguard Agency, the location of Navitus Bay was moved in order to open safe access to the Western Solent. But Mr Unsworth admits that further changes to the plans may make the project unfeasible: "If we scale back the project too far, we will get to the point of it becoming not economically viable," he said.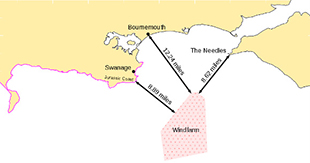 But opposition to the wind farm, including group Challenge Navitus, are sceptical of the public consultations: "They're obliged by law to do these consultations," said member Andrew Langley. "Ultimately the decision will be made by the planning inspector and the government, which means it will be passed out of our control."
Mr Unsworth claimed people had been "generally appreciative" of the information they were providing, particularly in the open and transparent manner of their proposals.
Public consultations will continue till Feb 13, with Navitus Bay's organisers demonstrating the wind farm's capacity to power around 790,000 homes.
Main image: Harvey Mc Daniel, Wiki Commons (Note: image not related to Navitus Bay)