Two school children from Bournemouth have designed a sketch which will be immortalised as a sculpture to honour Red Arrows pilot, Jon Egging, who plane crashed during Bournemouth air-show last summer.
Ten-year-old Penny Vallier and George Cutler, 9, from Kinson Primary School drew a sketch, which depicted three Red Arrows planes flying skywards leaving behind a trail of smoke. Contrasted by an interpretation of the British countryside in the background.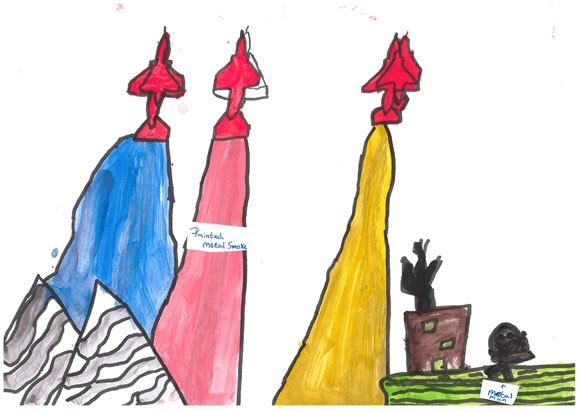 Flt Lt Egging's plane crashed landed in a field near Throop Village, while performing a display at the Bournemouth air show, last year.
The winning pair's design was selected by Dr Emma Egging, the widow of Flt. Lt. Egging along with his mother, Dawn.
The children participated in a locally held school competition in early February, to choose a suitable sketch that captured the legacy of the late pilot appropriately. Designs from three other schools will be considered for incorporation into the final sculpture design – St Walburga's, Elmrise Primary School and Oakmead Technology College.
The sculpture will be placed at Bournemouth's East Overcliff, close to the flying path of the Red Arrows display team during the Bournemouth air show. London-based sculptor Tim Ward will be designing the sculpture, out of stainless steel and glass. "The sketches were an abstract impression of the Red Arrows team. I will incorporate some text when I am creating the sculpture," said Ward, 52, who has previously done public art projects in London's Hyde Park.
The final design will be tweaked after taking the best from the four available submissions. "The whole idea of involving school children is to help them learn from professional artists. We will be holding workshops with them and involving them in getting the designs off the ground," he added.
The project is still awaiting planning permission on the site. However, the budget for the sculpture and landscaping has been estimated to cost £ 15,000. "We will start working on the sculpture by June end," added Mr Ward. And it is hoped the sculpture will be ready in time for this year's air show, starting from August 30th.
Head teacher, Liz Thomasson describes the sketch made by the pupils: