Bournemouth University students began their weekend by being blindfolded and driven hundreds of miles away from Talbot campus, all to raise money for charity.
Over 150 students participated in this year's Lost event. Dressed in costumes, armed with just a compass and relying on their instincts and the goodwill of strangers, they had to first figure out where they were, before attempting to make their way back to Bournemouth without spending a penny.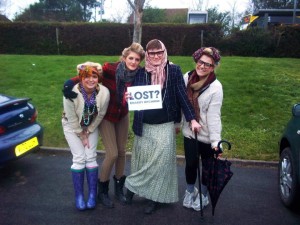 Lauren Ellis, president of Raising and Giving (RAG) at Bournemouth University, said: "As we did the event last year, it's nice to be able to run it again for the second time and still get the same response and momentum from the event.
"Last year the event raised £5100. We've already hit over that – we've raised £7838 so far, and there's still another week of fundraising to go".
As temperatures plummeted to minus 10, and up to four inches of snow were forecast in some parts of the country, the RAG team was forced to change their game plan in order to accommodate for the severe weather conditions.
Safety is also paramount on events and trips of this nature. Miss Ellis explains: "We provide students with safety alarms and panic alarms.
"Once we drop them off, each coach stays in the locations for up to an hour and a half, and the coaches then make their way back to Bournemouth with scheduled breaks, so if anything does go wrong, they're close by."
Four charities will benefit from the funds raised – Teenage Cancer Trust, Roundtable Children's Wish, Margaret Green Animal Rescue and The Royal British Legion.