On 20 February, Bournemouth Borough Council announced a series of refurbishment works to take place in Tuckton Bridge next month. The public is concerned that the repair work on the bridge spanning Bournemouth and Hampshire will affect their day to day lives.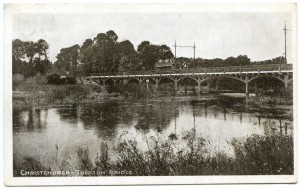 Christchurch resident Serena Green said: "Of course there will be an impact, I live around the corner and drive across the bridge to work everyday. I just hope they won't be here for too long."
Tuckton Bridge was built in 1904, spanning the River Stour, it is the main connection between Tuckton and Christchurch both by car and on foot. Starting on 5 March this year, repair work on sections of the concrete structure will take place as well as estimations on kerbing and bridge deck drainage improvements. However, after the essential stage, a full closure of the bridge will be require for at least four days due to resurfacing work.
Councillor Michael Filer, cabinet member for Transport and Technical Services, said: "These are essential maintenance works to a heavily used structure which is over 100 years old. I would like to reassure the travelling public that we have done all we can to programme these works in such a manner as to minimise disruption to traffic."
The council is hoping to deliver engineering work on the bridge during the Easter holiday to reduce inconvenience to the public. The decision was made in order to minimise the impact on commuter and school traffic during morning and evening peak times.
The bridge is approximately 100 years old and has been serving the public since 1905. Serveal investigatory work on the condition and structure of the bridge have taken place in August 2011 and the data is continuing to be analysed.
As the project is on a cross-boundary bridge, the overall cost will shared with Dorset County Council. Several warning signboards and mobile VMS (Variable Message Signs) have already been placed at both ends of the the bridge and main locations this Monday to inform drivers about the upcoming road work.