A study first conducted 40 years ago which suggested a link between climate temperature and hedgehog hibernation patterns is now being repeated.
Studies have shown that climate change has affected the behaviour of migrating birds, trees coming into leaf, and frogs spawning.
Research in the 1970s by Britain's foremost expert on hedgehogs, Dr Pat Morris, revealed a direct link between hibernation and climate which marked a difference in hedgehog hibernation patterns across the UK and prolonged inactivity in proportion to the coldness of the winter.
Dr Morris explains: "Age, sex and weather all appear to influence the timing of hedgehog hibernation.
"However, mild weather can also delay hedgehogs entering into hibernation or elicit premature awakening, impacting on the creature's fat reserves and breeding times and consequently affecting the long-term survival of the species."
Several organisations are monitoring native wildlife populations in Britain.
Although the precise impact that climate is having on the hedgehog is unknown, in the 1950s there were an estimated 30 million hedgehogs, a number significantly lowered by 1995 with only 1.5 million counted.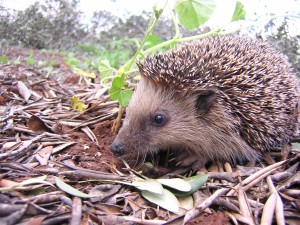 With the help of citizen science, any changes in the timing of waking hedgehogs since the initial research 40 years ago can help scientists understand hedgehogs and hibernation better.
The survey is part of the two organisations' joint campaign to protect hedgehogs. They are asking the public to make a note of any sitings of the creatures and contact them.
Typically the species hibernates between November and the end of March to preserve energy when food is scarce.
Director of conservation for Dorset Wildlife Trust, Imogen Davenport said: "We carried out a county-wide survey a few years ago and it seems that hedgehogs really rely on gardens in our towns and villages as havens. So we'd encourage everyone to leave a corner of their garden for wildlife."
Hedgehog records will be taken from 1st February until 31st August 2012, by which time all hedgehogs should be awake.
Click here to submit your record
Relate Websites:
Dorset Wildlife Trust Website click here
Hedgehog Street City of Wildlife website click here
British Hedgehog Preservation Society website click here