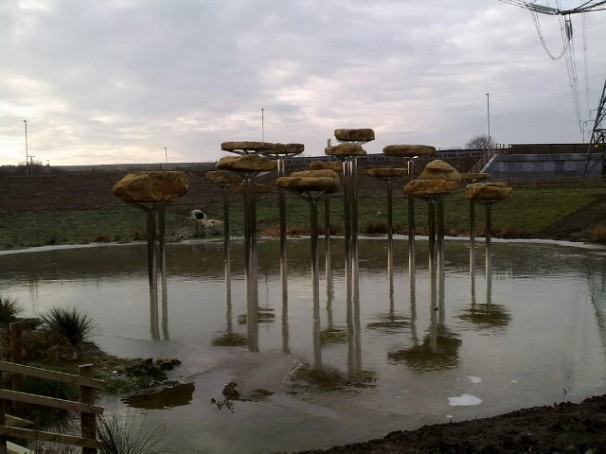 A £330,000 Olympic sculpture in Weymouth has been called a 'waste of money' and even a traffic hazard by residents.
The unusual-looking artwork, which is due to be completed later this month, greets drivers as they approach the town on the relief road. But some of the locals have criticised it as being a "waste of tax payers' money".
Devon-born sculptor David Harris created the project, which received funding from Dorset County Council, Arts Council England and other groups.
It is part of the Weymouth and Portland Commissioning plan for 2012, and consists of boulders weighing between two and nine tonnes each, supported by stainless steel rods in a pond.
One Preston resident described the artwork as "an embarrassing waste of tax payers money".
Concern has also arisen that the sculpture could cause traffic accidents, as it is located beside a large roundabout.
Littlemore resident Deanne Montgomery said: "I drive by there quite a lot, and it's really distracting."
Weymouth councillor John Birtwistle said: "I'm not convinced it's the best possible use of council funds.
"There's a heck of a lot of money involved overall for the Olympics – we're talking about millions of pounds for an opening ceremony, in which case the cost of the sculpture is just a drop in the ocean.
"The Olympics are starting to become somewhat of a bad news story, which is a shame. I want it to be a success, I want people to come to Weymouth and have an enjoyable experience."