With newfound time comes newfound freedom; and in the midst of a lockdown many people have come to discover things such as the joys of healthier eating and the benefits of exercise.
A simple scroll through Instagram, Twitter or any of the countless other social media sites and you're sure to find dozens of novice chefs sharing a recipe or gym fanatics sharing their workout routines.
While it's not yet certain if this trend will continue post Covid-19 lockdown, the short-term effects on the environment have been quite substantial.
A shift in eating patterns

"I'm eating a lot healthier because I have time."
According to a study funded by Tesco 20% of Brits are now cooking every meal from scratch compared to just one eight before the lockdown. It has also led to less consumer waste and experimentation with new ingredients since the time allows.
Additionally, there has been a spike in the numbers of fresh products being purchased. Nina Pullman, a representative from Riverford Organic Farms, noted that this noticeable shift of  mindset has increased their sales significantly.
"We are seeing a huge increase in the number of people who want to buy veg boxes. Recent research has shown three million consumers have tried a veg box for the first time since the pandemic," explains Pullman.
As a Registered Associate Nutritionist, Mackenzie Morrison is tasked to work alongside high risk and vulnerable patients and understand the effects that food has on our bodies.
"There are a lot of things outside of our control, but one of the things inside our control is what we put into out bodies," says Morrison.
Food is to our bodies as petrol is to a vehicle. When considering the effects food has both emotionally and physically on our bodies, it is important to be mindful of what we are using to fuel it. Morrison defines this simply as what you put in, you get out.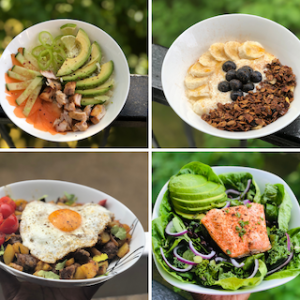 It's no secret that eating more fruits and veggies is beneficial to the body, but it turns out healthy eating can also have an impact on the environment.
An analysis led by Oxford University suggests that foods with lower health impacts lead to lower environmental impact, while those with larger health impacts are also worse for the planets health.
Jess Grimson is a sports therapist and professional beach volleyball player and said she's noticed a definite change within her diet and exercise since the pandemic hit.
"I think my diet has actually gotten a lot better. Diet has not really been my strong point but having more time since my diet usually centers around convenience, but now I'm eating a lot healthier because I have time," says Grimson.
The exercise divide

It's likely that in the midst of the Covid-19 pandemia your current exercise routine has shifted.
While there seems to be a divide between those using their free time to hit the instagym, and those who feel less motivated because they're stuck, it is no doubt that the pandemic has had an impact on physical fitness.
With parks, beaches and other outdoor sports spaces now open, the newest guidelines from the UK government now allow people to spend more time outside.
In stressful times such as these, it can be difficult to maintain a normal routine, but Grimson says it can be helpful to maintain healthy habits by incorporating bite size workouts into your day-to-day.
"Even if you're not used to exercising or it is something new, getting up and starting with something small like a yoga or Pilates session, or HIIT workout, and keeping yourself accountable is beneficial," says Grimson.
While the pandemic may have drained your desire to workout, Grimson says it's no reason to ditch your routine as nothing is more important than your health.
Making it a norm and not a fad
"With all the uncertainty we are looking to control something and if we are able to shift our focus on mindful eating, it can help alleviate a lot of those stresses," says Morrison.
Whether it's because of the latest celebrity endorsed fitness plan or the rediscovered holy grail of diets, like many fads, the diet and exercise surge "trend" seems to reoccur every few years. So how can we as a society make healthy living the norm?
While there is no certain answer there are definitely things you can implement in your daily routines to help get the ball rolling.
Hydration
There's a reason water has coined the phrase 'universal solvent'. With good old H20 making up around 60% of our bodies, its health benefits are endless. When consistently hydrated, water can help maximise physical performance, can boost energy levels and brain function, and even accelerate weight loss.
"Not only does it help with hydration and making sure your skin is healthy, but it also helps with consuming less food throughout the day," explains Morrison.
Food Tracking 
Increased awareness of how much food you are eating can be extremely beneficial in understanding how your body reacts with certain foods, and which types of food gives you the most energy and nutritional benefits.
As Morrison emphasizes, food tracking doesn't have to be complex but it gives you a better understanding of food portioning and being able to make sure you're hitting your targets daily.
Accountability 
"Getting those endorphins going makes you feel so much better!"
It can be difficult to challenge yourself if you don't have someone pushing you and encouraging you throughout the process, but the hardest step is always the first one.
"If you're in a routine of getting up in the morning and doing something, I think it's so beneficial. Even if it's just a walk, getting those endorphins going makes you feel so much better," says Grimson.
With the creation of so many health and fitness apps, there are tons of free resources that can help with maintaining a healthier lifestyle.
Listen to some tips by nutritionist Mackenzie Morrison on how to maintain healthy habits: