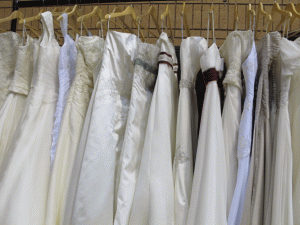 This year's annual Wedding Show at the BIC featured unusual wedding location opportunities to meet the rising demand for unconventional weddings.
The event gave future weds a chance to potentially tie the knot in a less traditional format by promoting Monkey World Weddings and Beach Weddings Bournemouth.
Monkey World, the ape rescue centre, received it's wedding licence in 2009, giving couples a choice of 3 settings to say their vows in prime view of the primates. They have seen an increase in the demand for weddings recently.
Sarah Lambert, Marketing and Public Relations Manager at Monkey World, Wareham said: "We have had an increase in couples demanding a unique day in an intimate and memorable setting."
"We take up to 12 wedding bookings in one year, and like to ensure we keep up with wedding traditions by just providing a change in location."
As well as exchanging rings in the surroundings of the ape sanctuary park, customers were also given the opportunity to do the same in a beach hut with Beach Weddings Bournemouth, to be launched in April this year.
Melanie Kiani of Bellissimo Weddings, working in collaboration with Bournemouth Council, said that people are attracted to the idea of something different.
"We already have 26 weddings planned for this year between April and October, with couples from all over the country and a variety of age ranges.
"It takes the stress off the need for a normal wedding and gives the couple a fun day of relaxation."
Bride to be, Felicity Ackerman,28, said: "I would definitely consider getting married somewhere unusual rather than the conventional church, I think it reflects a modern approach to weddings."
However, couple Lawrence Drew and Zoe Mackenzie said; "I am not so keen on getting married in a wildlife park even if it does support primates and apes."