Dorset born Andrew Musgrave came an unexpected second in the mens skiing 15K freestyle at the Norwegian National Championships.
Musgrave is the best Nordic skier Great Britain has ever had. He is currently training in Norway with some of the world's finest athletes. He has been world number one in his age group and is the first British cross-country skier ever to gain a place in the top 30 of a World event.
On the day, Andrew was only bettered by Martin Johnsrud Sundby, which highlighted the massive scale of his achievement. The British Nordic Team member continues to impress and his latest exploits are nothing short of remarkable, only adding to his already escalating reputation.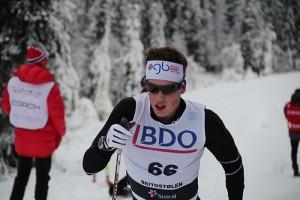 The event saw Musgrave sneak his way into second place in the opening event of the country's national championships. Due to his British citizen status, he will not be receiving a medal despite coming second.
"It's great to get on the podium. You do not need a medal in metal in order to know that you've done well," Musgrave told the Norwegian media.
He said: "My goal was, if it went really well, I'd come in the top five, but to come in second is pretty cool.
"It was a bit of a weird day. The results were weird; like, I was second, but still a minute-plus behind. It was just awful weather, a real howl and gale. You just had to keep going and not stop when the wind blew really hard against you.
"Most people think it's a bit cool that someone different did well."
Musgrave was born in Dorset but grew up in Scotland, Shetland and Alaska, where he first got into cross country skiing. He previously competed for Britain in the 2009 World Championships and the 2010 Winter Olympics.
The Jaguar Academy of Sport 2011 Rising Star, was competing in a field with some of Norway's best Nordic skiers including Petter Northug and Thomas Alsgaard.
Musgrave hopes to compete in the following events this season:
3-5 Feb: Norwegian Cup in Trondheim, Norway
19-26 Feb: World U23 Championships in Erzurum, Turkey
30-31 March: Norwegian Long distance Championships in Fauske
Relates Websites:
Athlete information: click here
International Ski Federation website click here