UK hip hop giant Fliptrix returns with his fourth album, the second in 2012. Over the last five years, Fliptrix has truly defined himself as an artist. He has crafted a sound which is distinctively his own and a lyrical style which couples relentless flow with psychedelic imagery and tightly woven wordplay.
On The Road To The Interdimensional Piff Highway we see the culmination of Fliptrix development. The lack of any vocal collaboration on the album speaks for itself: his best lyrical display to date is coupled beautifully with the  duo Runone and Molotov's production . Positivity and progression are lyrical themes which run through the album and the artists insights and thoughts are truly coming to a head on this new record.
The album seems like the logical progression from Third Eye Of The Storm; concepts explored on the previous album are developed further on T.R.T.T.I.P.H. Uplifting and anthemic tracks like Heart Full of Love, Cycles and Let The World Unite, are perfectly balanced with darker more introverted songs like Sounds and Been Here Before.[one_half]
His style has progressed and the rhymes are far more developed but the album still maintains the sound that brought him to people's attention in the first place. He has created what will surely be remembered as a seminal album in UK hip hop history and is the artists best work to date.
The lyrics have grown to be brimming with deep thoughts and concepts, complex flows and rhyme patterns and enthralling, awe inspiring lyricism. Speaking on the project Fliptrix said: "I wanted to open people's minds to a lot of issues that aren't normally addressed in the everyday world let alone on a rap record." [/one_half] [one_half_last]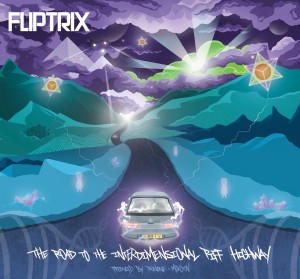 [/one_half_last]Fliptrix's lyrics explore his own and aim to help others open their minds and this album is the culmination of experiences and investigations he has undergone recently. We are taken on a journey over the course of the fourteen track album and having just two producers, Runone and Molotov collaborating on the whole albums production definitely helps this cohesion.
Fliptrix has worked heavily with the two producers in the past and the duos production on T.R.T.T.I.P.H. creates the ideal sound to compliment Fliptrix. This coupled with the lyrical themes that run through the album make an album which truly sounds like a collection of songs that is meant to be heard together.
Undoubtedly Fliptrix best work to date and in my opinion the best UK hip hop release of 2012.
The Road To The Interdimensional Piff Highway is out today, 12.12.12 and is available on double vinyl and CD from the High Focus Records store or download from iTunes
Main photo credit: Fliptrix