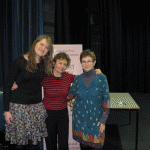 A holocaust survivor whose brother was buried alive when their hiding place was revealed, shared her terrifying ordeal with children at a Bournemouth school to mark the Holocaust Memorial Day.
A Polish Jew, Janine Webber, 80, told 400 students and the Mayor and Mayoress of Bournemouth that she lost the use of her legs after spending one year underground when she was ten years old.
Mrs Webber was forced to take hiding in solitary confinement when her brother was killed by the Gestapo Police. She said: "The only thing that managed to keep me sane was killing the lice on my jacket."
She survived by attending a Paris Convent school with the help of her Aunt, who persuaded the Priest she was Catholic.
She said: "To talk about my memories makes it easier because I can confront my past and speak about my Jewishness without being frightened.
"I believe very strongly that people need to remember what happened, my mother died in the Ghetto, my father was shot and my brother was killed. I want them to remember that."
Mrs Webber's life was spared when she and her brother's hiding place was deceived by the farmer's daughter. When her brother was taken away, she was told he had been buried alive.
The event, organised by The Poole and Bournemouth Holocaust Committee, was one of many international memorial services that took place to commemorate the liberation of the Nazi death camp, Auschwitz-Birkenau on the 27th January 1935.
Lynda Ford-Horne, chairman of the Poole and Bournemouth Holocaust Committee said: "It is important to hear survivors speak while they are still alive.
"The events of the holocaust could easily happen again. The economic situation we are in is very similar to those in Germany when the events took place."
This year's remembrance theme, 'Speak up, Speak out', encouraging people to speak out against racism and prejudice, was accompanied with a courageous story from a local resident, Arthur Eggerding, who spoke of his involvement with the Dutch Resistance.
He said:"The most important message is to appreciate everything.
"When I was eight my parents were shot in Amsterdam. I used to stand in the queue at the market at  3 o'clock in the morning for food and nothing came.
"The resistance I see is through having a memorial for people, the resistance movement allowed us to sit here today, if it wasn't for them who knows what would have happened."
The theme was continued by a student from Bournemouth School for Girls who spoke of a visit she took to Auschwitz which illustrated the consequences of prejudice and bullying.
To hear the full interview with Janine Webber, click play below.
[FMP width="480″ height="360″]http://www.thebreaker.co.uk/wp-content/uploads/2012/01/Sequence-01_1.mp4[/FMP]