Source AFP
Kenyan police have sent 400 officers out to beef up the general election's security after 12 people were killed, including six policemen, in an early confrontation in the port city of Mombasa.
Kenyan Police Chief David Kimaiyo said the attackers were suspected members of the Mombasa Republican Council (MRC), a group seeking the secession of the coastal region popular with tourists.
Police have blamed the MRC for a string of attacks last year, and the group had threatened to boycott the polls.
According to police, a remote-controlled bomb was also set off in the northeastern town of Mandera, which is on the restive border with war-torn Somalia, but resulted in no casualties.
Despite the attack, voters packed the streets in the city.
"We are not worried, we are voting," said architect Said Said, waiting to cast a ballot at a primary school.
Kenyans are casting six ballots, voting for a new president, parliamentarians, governors, senators, councillors and special women's representatives.
Some 14.3 million Kenyans are eligible to vote at more than 30,000 polling stations across the country.
Long lines of Kenyans queued from before dawn to vote Monday in the first election since the violence-wracked polls five years ago, with a deadly police ambush hours before polling started marring the key ballot.
The tense elections are seen as a crucial test for Kenya, with leaders vowing to avoid a repeat of the bloody 2007 post-poll violence in which over 1,100 people were killed.
Voters standing in snaking lines several hundreds of metres long — and several people thick — crowded peacefully outside polling stations to take part in one of the most complex elections Kenya has ever held.
People began lining up outside polling stations from as early as 4:00 am to cast their votes, two hours ahead of the official opening of the polls.
In middle-class areas of Nairobi, parked cars blocked the streets around polling stations, with progress slow in some centres due to delays due to malfunctioning electronic registration equipment.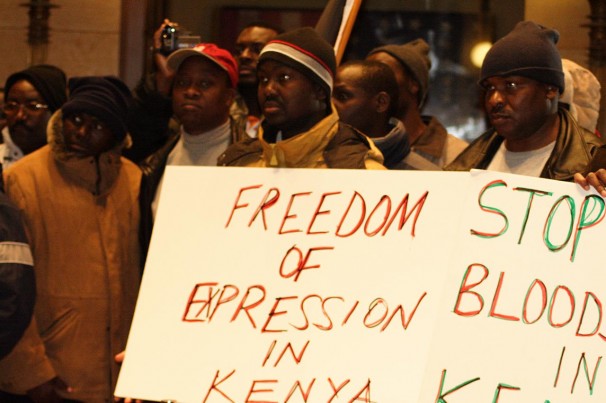 Ahmed Issack Hassan, Independent Electoral and Boundaries Commission (IEBC) chairman, said he was "aware of the challenges faced in various parts of the country" and said they were being addressed. He appealed for voters to "be patient".
Main image: Barbara Dziedzic.