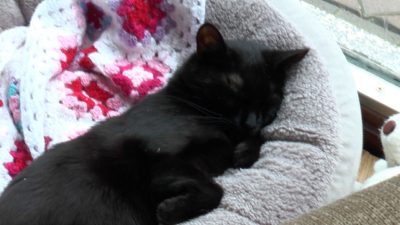 Pause cat cafe owner Jaya Da Costa says kindness is at the heart of everything in her new business.
"It's kindness to animals, also kindness to our local community as well," she said.
"We enjoy having lots of different types of people come to visit us – people who are elderly and isolated, people with disabilities – who find it very therapeutic and healing to be around cats."
The cafe on Old Christchurch Road officially opened earlier this year, after a successful fundraiser campaign in November.
The Breaker spent an afternoon at Pause, speaking to customers enjoying food and drink alongside the feline company.
One customer brought her grandma and mum as part of a belated Mother's Day celebration.
"At the beginning when we first got here we only saw one cat, and we thought 'oh no'," she said.
"But now they've all come out and it's just fun to watch them play."
"It's kindness to animals, also kindness to our local community as well"
5-star hygiene rating
Customers can enjoy a menu full of locally sourced vegan food and drink, served in resealable containers to prevent the cats from getting in.
The cafe was recently awarded a 5-star hygiene rating from the Food Standards Agency.
"We worked so hard to achieve that – everything we've done has been to try and create the best level of hygiene," said Jaya.
"Also for our cats as well, it's very important for us to protect them from customers' food. It's not very good for their little tummies."
In terms of staffing, Jaya has expressed her gratitude to the volunteers that help keep the cafe running.
"It's made a real big difference because we've been so busy, it's been really difficult to keep up with everything," she said.
"We've been heavily under pressure, and we wouldn't have been able to get through it if it wasn't for all of our wonderful volunteers."
Find out how you can volunteer at Pause Cat Cafe
Find out more about standards of hygiene at Pause Cat Cafe