No ground could be found for the 56th Joint Ploughing Match until local farmer, Dan Tanner, saved the day.
42 entries were booked in to the competition that took place at Sopley 'Pick-your-own' Farm last Saturday. The event is jointly organised by the 223 year old South Avon and Stour Agricultural Society (SASAS) and the Lymington Growmore Club.
Mr Tanner said: "It's just marvellous how many people have turned out, every type of person from local farmers to the old timers.
"It is a huge privilege to have them come here."
Changes in farming
Honorary Secretary for the competition, Jenny Dolbear, told the Breaker: "It is becoming very difficult to find a site because of farm's crop rotations and cultivations. Farmers don't have the blocks of land like they used to.
"There has also been a change from farmers entering their workers to the vintage boys with their toys, but we are very lucky that we have a very good following."
One of the main attractions of the competition is the working horses. This year there were three working pairs, with the added bonus of a team of four horses, using a rare US built plough, owned by Robert Sampson of Harbridge.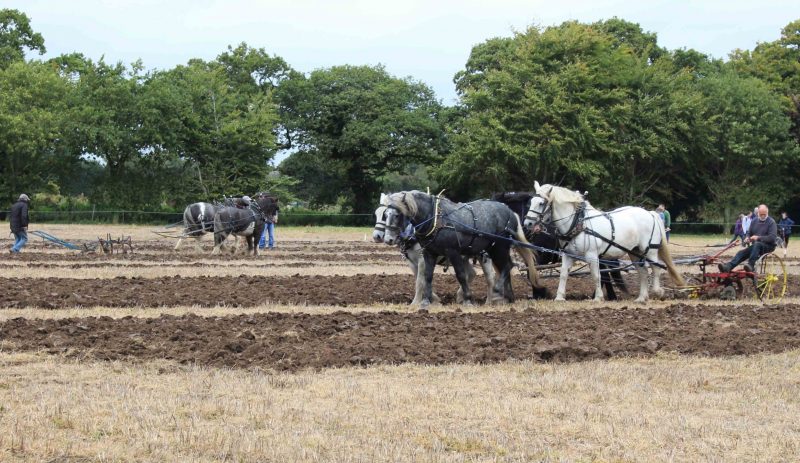 Start of the season
Graham Mustey was working a pair of Gypsy Cob horses, Woody and Digga, he said: "The ground is really nice, not sticky, not hard, it's just right.
"This is just the start of the season for the ploughmen, with the national championships in Somerset next weekend and other competitions continuing into the autumn."
Entries of tractors and ploughs ranged from brand new John Deere tractors to Fordson tractors built during the Second World War. Visitors could also enjoy tractor and trailer rides around the field whilst listening to a commentary all about the fine art of ploughing.