Although the music was young and vibrant the crowd was 80% post retirement, however the excitement bubbling up at the Lighthouse of February 1 was as hyper and bouncy as the band Latin Underground.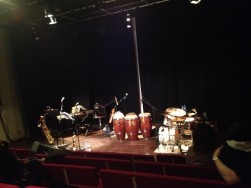 Stage set up before show
The opening number was a combination of saxophone and trumpet with a samba beat. Rapid pulsating tunes that made you think were in Rio at Carnivale. Then the tone shifted from the joyous streets of Rio to the roaring 20's. Even those who aren't fond of jazz or Latin music will not be able to resist the combination, and this band's original composition, of both genres of music.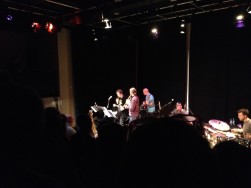 Latin Underground performing
If the trumpet was a rapid rising firestorm pulsing through your body than  Jaime Harris's saxophone was a lover inciting you to an embrace. No matter the tune several members of the audience and this reviewer had to hold down their legs to keep from standing up and dancing.The only downside to the evening was the venue. The Lighthouse theatre had underestimated the turnout which resulted in the audience being packed in like sardines.
A personal favourite of the evening was a particularly enthusiastic drum solo by band leader Robin Jones earning the first of many applauses during the show. It lasted approximately five minute then roared back to life with the sound of Gavin Broom's trumpet.
A song from their first album called Guappa Guappito, carries a beat that doesn't let you breathe or rest, taking you on a whirlwind of chimes, drums and a frightening belting out from the saxophone. This isn't music to listen to this was music to dance to, be it the salsa or the Charleston.
The audience cheered for an encore then another just as the band was leaving, Robin James upon returning said laughing "You people are mad you are!"