Dorset MPs are showing their support and are encouraging local awareness about the Lewis-Manning hospice which is due to open in May.
The Poole charity, celebrating its 20th anniversary this year, will be receiving a visit from four local MPs, Annette Brooke, Conor Burns, Robert Syms and Tobias Ellwood this month (March) at its new hospice in Lilliput and Poole.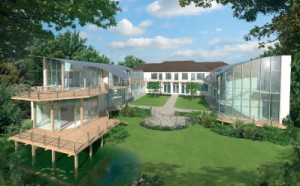 Elizabeth Purcell, Lewis-Manning Hospice's Executive said: "Our funding situation remains very tight and it is hoped the interest from the MPs will help to unlock some additional funding opportunities."
The Lewis Manning Hospice is a free day service caring for up to 650 local people with life-threatening illnesses and is in need of extra funding.
The new hospice in Lilliput Poole, is a 23 bedded unit which will allow patients to stay overnight for the first time as well as a breathlessness clinic and lymphedema clinic.
To raise extra funds for the hospice, a charity walk is taking place on 24 March which will be hosted by Bad Girls star Debra Stephenson.