Anything can be made into a puppet as long as it is moving like it's alive," says Dorset based puppeteer, Marc Parrett, crumpling a sheet of paper into a ball. He then tapes it to one end of a rolled up stick of paper.
In the Lighthouse Centre in Poole, artists gathered to tell classics stories like Goldilocks and Pinocchio through puppets and conduct workshops on a variety of puppet-making skills, at the aptly named Puppet Festival.
But the crucial aspect of this festival is that it has given local artists from Poole and across Dorset a chance to share their stories. On the opening day of the Festival (11 February – 18 February) Poole- based artist Michele O'Brien performed her popular piece, The Spice Box. Parrett held a day-long puppet making workshop for 5-year olds.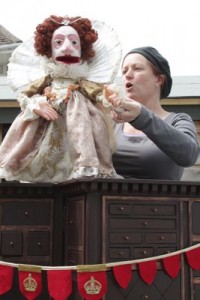 O'Brien's show is a dramatic story about the spice route during the reign of Queen Elizabeth I and how important condiments were shipped across to the UK. This was the first time O'Brien has performed the piece in Poole. "My initial attempts at convincing the Lighthouse to host this show were met with reactions that it might be too tedious. I'm glad they have put this mega show together now, so that we can connect with our local audience," said O'Brien, who got an Arts Council grant to produce this piece along with Chris Pirie of Green Ginger Productions.
However, the audience was very measured in its response and O'Brien isn't surprised about that. "We need to develop an appetite for such puppet shows first. The people do not know what to expect from such show because there hasn't been much awareness for them," she added.
The eight-day festival will also include a show on Pinocchio by Cornwall-based theatre production house Cube Theatre.
Main picture by: Debesh Banerjee