One schoolgirl's dream of having a statue built in honour of famous fossil hunter Mary Anning, is finally coming to life.
Born in 1799, Anning made numerous groundbreaking discoveries on the Dorset coast.
But for years, an elusive government approval meant Evie Swire's dream had to be put on hold.
In early January, the Dorset Council finally gave the go-ahead for the statue to be placed in Lyme Regis, the birth place of Mary Anning.
Evie began the campaign for the statue in 2018; Now 14, Evie reflects on why she believes Anning is special: "She really plays an important role in what we know about fossils today… it's upsetting that just because of her status in that time, she was not appreciated for her work".
She set about fundraising with her mother after realising there was no statue marking Anning's achievements.
A charity started alongside her mother Anya Pearson, managed to raise £100,000 – the amount needed to have the statue built.
The team behind Mary Anning Rocks also include Esther Yarnold, Brandon Lennon, Darrell Wakelam and Michael Jeffries.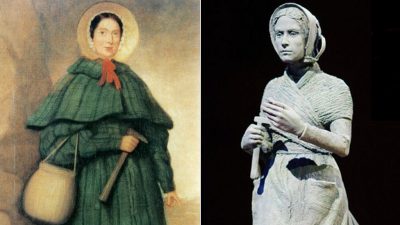 And in 2020, Anning's life and work was showcased on the big screen, played by Academy award winner Kate Winslet, in a movie titled Ammonite.
The BBC reports that the proposed life-size bronze statue will be built by internationally acclaimed sculptor Denise Dutton and will be placed in a "spot overlooking Black Ven, where [Anning] unearthed many of her finds."
According to the Local Democracy Reporting Service, the charity hopes to unveil the statue on 21 May, which would mark the 223rd anniversary of the fossil hunter's birth.