Put your razors down guys! November is all about the moustache.
The male counterpart to the more established Breast cancer awareness month of October has managed to create quite a fuzz over the last couple of years.
The idea originates from Australia and ever since 2003, November has been used to create awareness of mens health issues, especially cancer. Movember's vision is to have an everlasting impact on the face of men's health.  Every man or "Mo Bro" is expect to sport a clean shaven face on November 1st then to spend the month of november growing and grooming a moustache.
There is to be no joining of the mo to the sideburns (that's considered a beard), there's to be no joining of the handlebars to the chin (that's considered a goatee) and each Mo Bro must conduct himself like a true gentleman.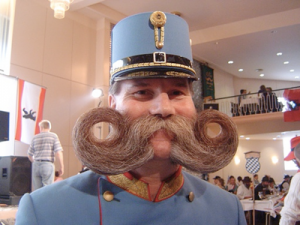 This year one of the main goals is to encourage people to get to know their family health history and understand the challenges they face regarding their health and future.
There are many ways to get involved in the project. Not all of them necessarily include growing a moustache. If you are a girl you might feel a bit limited, but there is no need to worry, because behind every Mo Bro there is a Mo Sista. A Mo Sista's job is basically to support their Mo Bro, may he be a friend, brother, co-worker, boss, partner or mailman.
Other ways to contribute to create awareness is through the Mo-running event, a 5 or 10K run which takes place around the country. You can also get involved by starting communities, donating money, throwing parties, fundraisers or even making movies – anything that helps to keep the ball rolling. If you, as a Mo Bro, are extremely proud of your moustache accomplishment you can also post pictures of the progress or of the end results.
The money donated to the cause is divided between programs run directly by Movember or their partners Prostate Cancer UK and the Institute of Cancer Research. In 2011, over 854,000 Mo Bros and Mo Sistas around the world raised £79.3m.
Here is some inspiration or Motivation if you like
Follow Movember on Pinterest, Facebook or instagram: @Movember